I have always loved how Charles Dickens uses "bran new" in the first chapters of
Our Mutual Friend
. Because, of course, very few people actually include the "d" when they say "brand new."
But that is slightly off-topic. What is on topic is a bran-new wrap skirt, hemmed to tea length for summer.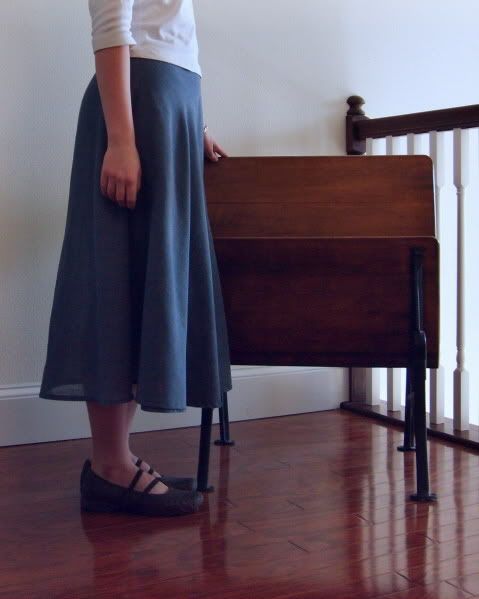 The fabric is one of those delightful "unknown origins" fabrics for $1 per yard at Wal Mart. Who can resist mystery fabric? Actually, I have a healthy loathing for mysteries of that sort, but this fabric had a nice lightweight weave and a beautiful color. Resistance was futile. But that light weave means that this one skirt that will definitely need a petticoat! I used Conni's fabulous Wrap Skirt Tutorial:
Part 1
and
Part 2
. Although, to tell the truth this skirt is so simple to make up that I never had to look at the directions again after the first skirt.
The two buttons (instead of a sash) came from my stash. I had purchased them for another project and then discovered that they were a few shades too dark. I would normally look for something low-profile for a skirt like this, but the colors matched perfectly and I couldn't resist.
Simplicity (and I'm not referring to the pattern company) is delightful. Right now I'm working on a skirt with 8 godets and thinking longingly of the hour it took to cut out and sew my wrap skirt.