After finally using interlibrary loan to check out two volumes of
Patterns of Fashion
by Janet Arnold, I fell in love with one of the skirts illustrated in the introductory pages of the 1860-1940 volume. Nestling among the other fashion plates and illustration was a seven-gored skirt with a full-length front gore and pleats around the rest of the skirt. I think what attracted me to this skirt was the depth of the pleats and that straight front panel.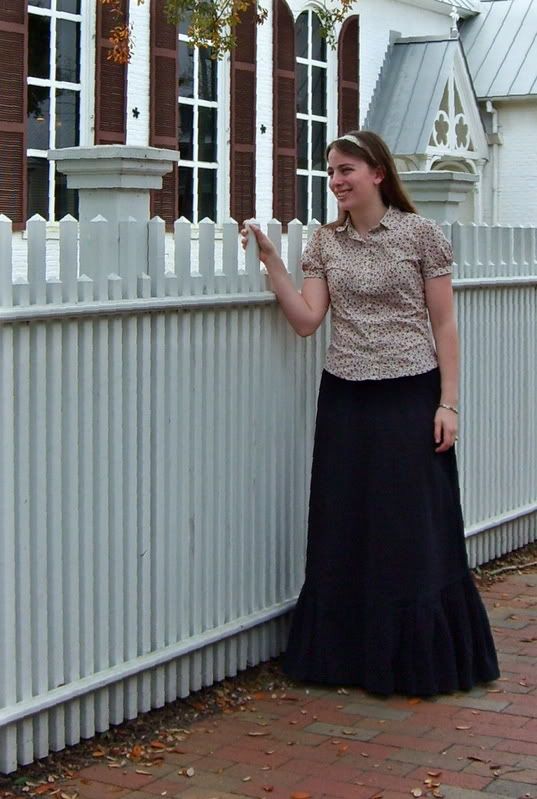 The (tiny) vintage illustration in the Janet Arnold book included the shapes of the pattern pieces, but I decided that this was the opportune time for me to try my hand at real pattern drafting. I've drafted several basic skirts before, basing measurements on already existing skirts. But creating a pattern with no physical reference was new for me. Using my waist and hip measurements, I created a seven-gored skirt. The illustrated piece for the pleated bottom section was quite long and slightly curved. I decided that I didn't need the extra flair that cutting it on a curve would give, so I cut out three rectangles, stitched them to the skirt, and graded them at the hem.
Eventually, I ended up with a mock-up that I liked. By the way, hideous, limp, royal blue fabric does nothing for this skirt. After transferring the pattern to paper, I cut into my fashion fabric -- a beautiful suede-like cotton and polyester blend that I got at Wal-Mart for $2 per yard.
I top-stitched just above the pleats to add some definition: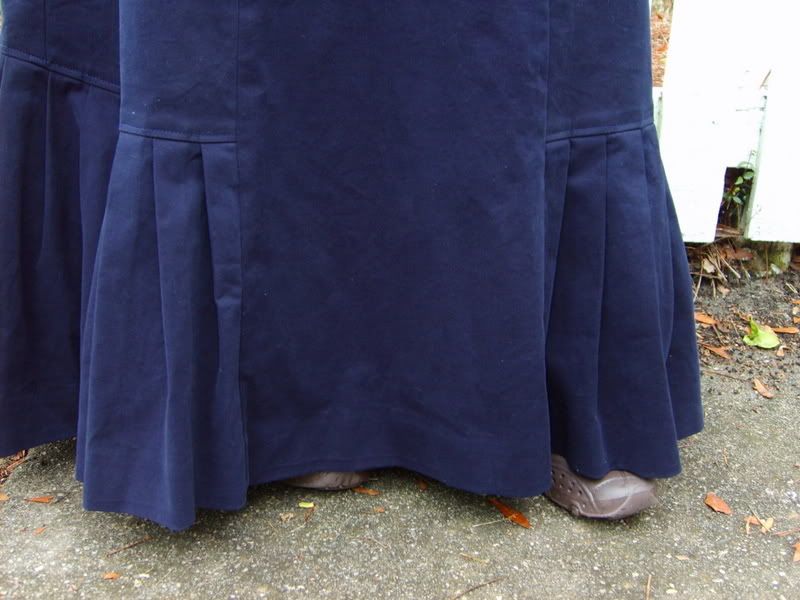 I didn't make the pleats rise too dramatically, but they a few inches longer in the back than they are in the front: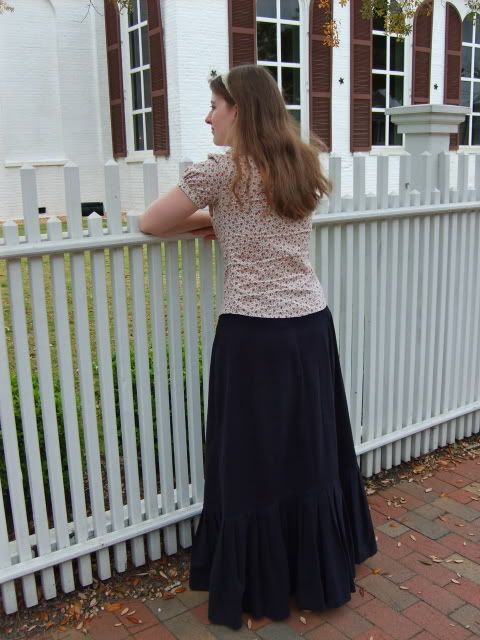 Alas, the fabric is so dark that pictures don't really show the details of construction. The hem is bound up with a navy blue satin ribbon and hand-hemmed. I love crisp machine hems, but this skirt was just begging for an invisible hem. I wore it while running errands on Wednesday, and I love the way the pleats swished around my ankles as I walked.
The only problem? Summer is coming quickly and I probably won't get to wear this skirt again 'til the fall!