In celebration of the opening of
The Chronicles of Narnia: Prince Caspian
, my sister and I decided to have a Narnian party. One of my dear friends was able to come for a visit and attend the opening with us.
This is our second Narnia party -- our first party was two summers ago, and my friend attended that party, as well. For this party we resurrected our costumes from the first movie and wore them to the cinema. It was an early afternoon showing, so we didn't get
too
many funny looks.
Since there were just three of us, we didn't have an elaborate party this time -- last year we had Turkish delight, Marmalade roll, Raspberry fools, and many other delicious things mentioned by C.S. Lewis in his books, all divided into "areas," such as The Beaver's Dam, Mr. Tumnus's Cave, and Cair Paravel. But small numbers meant a small party this year. I scoured my copy of
Prince Caspian
a few weeks before the film debuted, noting down any mentions of food. Most of the food featured in the book is fruit, which meant that party preparation were fairly simple. I couldn't believe how many references there were to apples!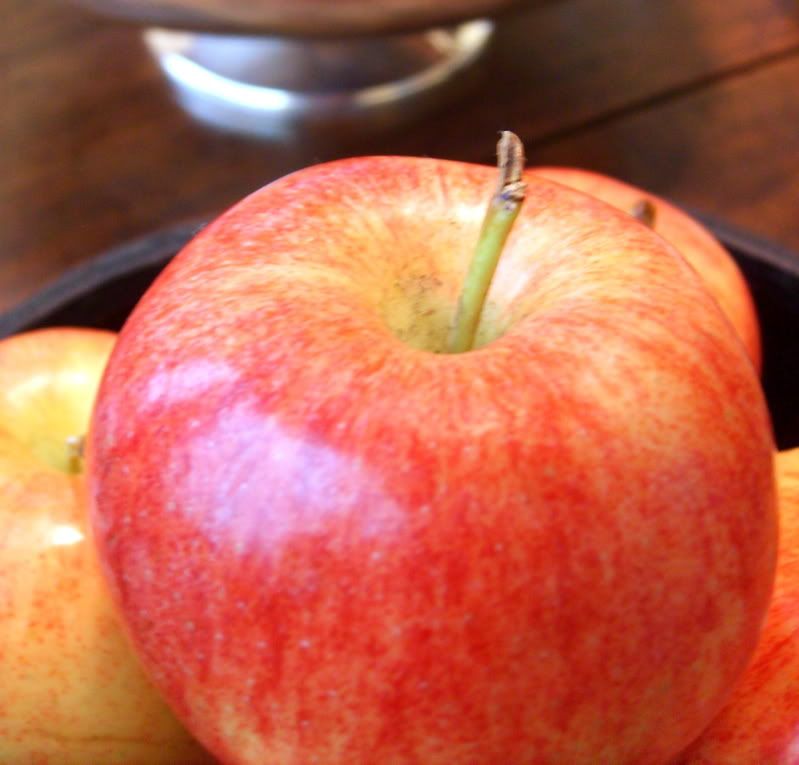 We had a basket of Narnina-looking origin filled with apples.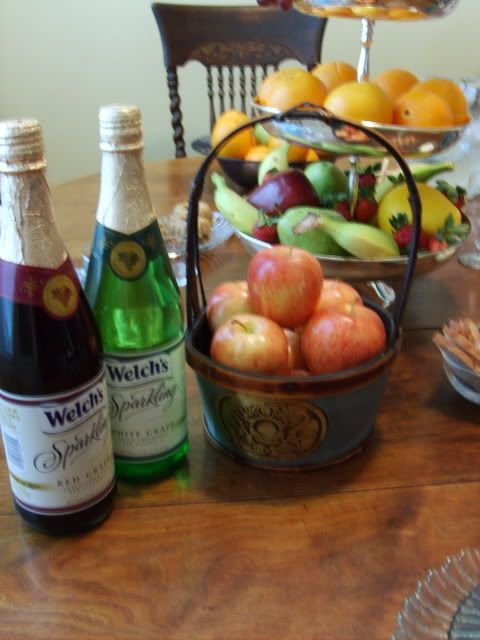 Pattertwig the squirrel gives Caspian nuts and the Bulgy Bears give him honey -- we pretended they had a collision in the woods, and invented granola:
Fruit and cream are mentioned in the final feast, so we used blackberry crisp and fresh whipping cream.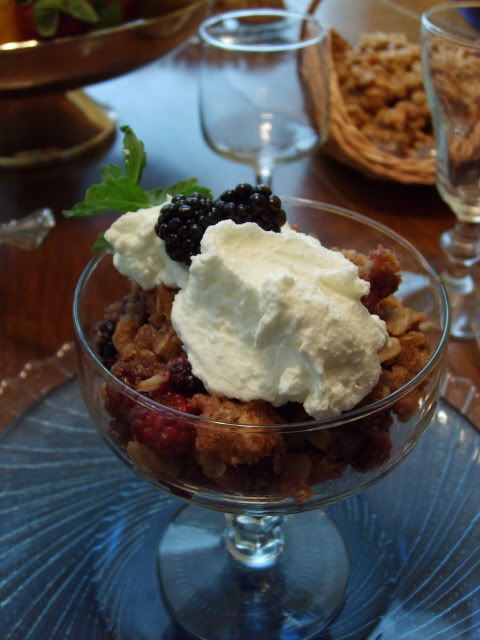 The centaurs offer Caspian oaten cakes, represented here by oatmeal applesauce muffins (more apples!) -- alas, they didn't release from their molds quite as nicely as they should have. But they were certainly delicious.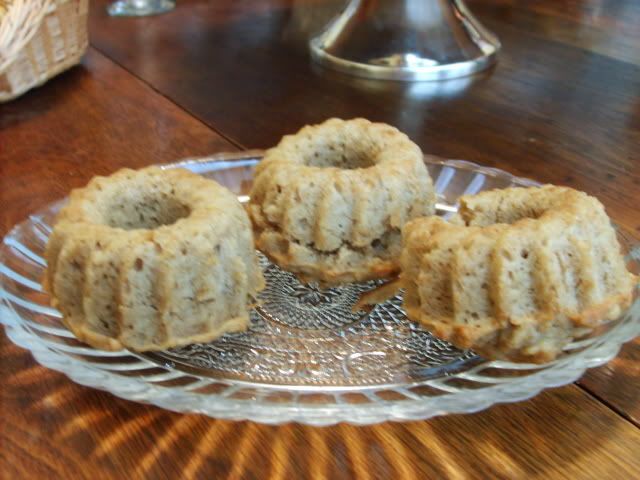 In the final feast, C.S. Lewis mentions "pyramids and cataracts of fruit." This was our best attempt!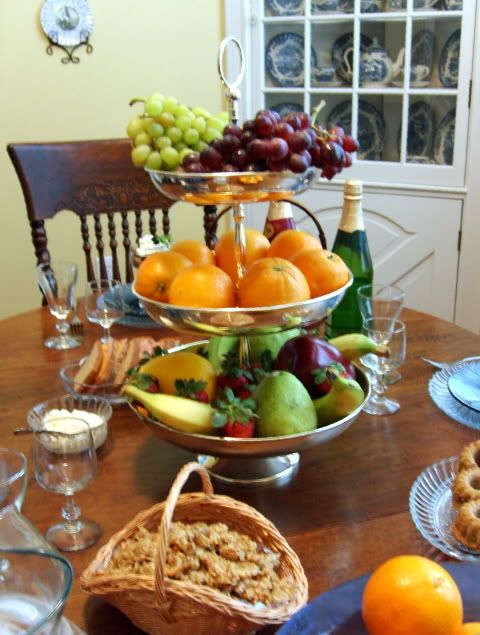 And lastly, pictures of my costume and my sister's costume. I recreated the dress worn by the adult Lucy in "The Chronicles of Narnia: The Lion, the Witch, and the Wardrobe." You can see pictures of the original dress on
Narnia Web
.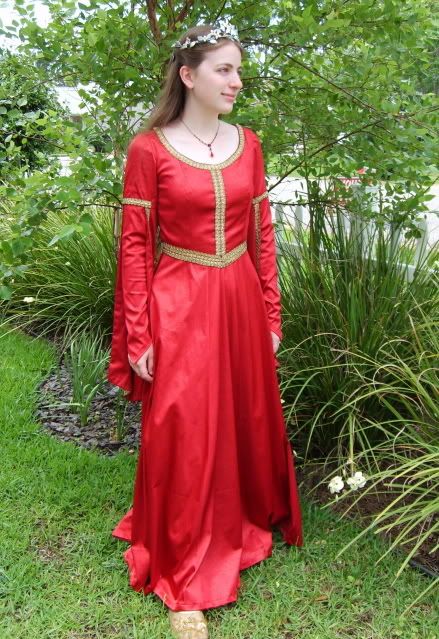 I used
Butterick 4571
, and had to make surprisingly few alterations! I raised and rounded the neckline, and also changed the oversleeve shape to resemble Lucy's. I was very pleased with the pattern.
My sister modeled her dress after a Pauline Baynes illustration of Susan in "A Horse and His Boy." My Narnia treasury has color illustrations, and Tiffany fell in love with the blue and gold dress that Susan wears while dancing with Mr. Tumnus. This picture is from our first Narnia party two years ago: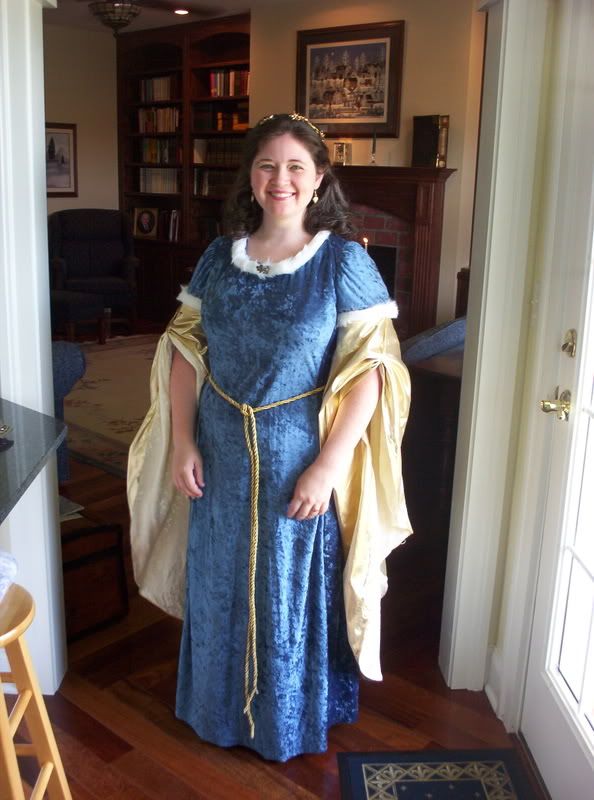 Unfortunately, I don't have a picture of my friend's lovely dress, a recreation of Susan's green archery dress from "The Lion, the Witch, and the Wardrobe." She and her sister, both incredibly talented, collaborated on the dress. Also, my friend created the crown I am wearing, a copy of Lucy's crown, as a birthday present.
Overall, I am quite pleased with the film. Of course, I can think of a thousand things I would have done differently, but I do not feel incline to quibble (too much) over the director's choices. Lovely cinematography, lovely music, lovely costumes -- I may just have to recreate one of them!