Today was a delightful combination of home activities: picking blackberries in the morning, working a bit in the sewing room, puttering around the house, and assembling a salad and grilling hamburgers for dinner (with chopped onions and crushed garlic mixed in with the ground beef. Mmm!).
After returning from picking berries, I changed into a favorite white twill skirt, with buttons down the side front -- I can't tell you how many people have come up to me and told me that my skirt is on sideways!
I also wore a new pink blouse that I finished last week, using (Guess!)
Simplicity 4499
. The only change I made this time (other than the collar, which I always change), was that I folded the front plackets the opposite way. This allowed me to insert a band of gathered fabric so that I would have a ruffle on each side of the buttons. I'm gald I did, because otherwise this blouse would be rather plain. The thrifted fabric came in a bag with several other large pieces, all for about $2. The mother-of-pearl buttons are salvaged, as well.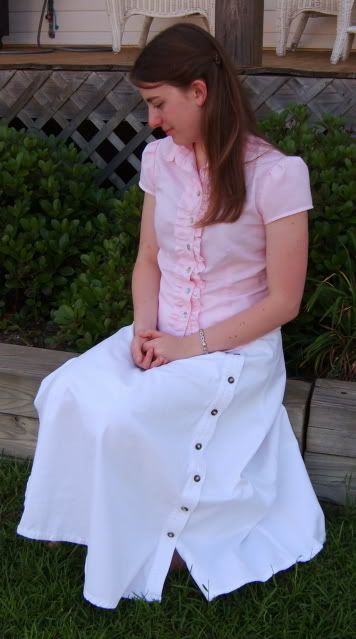 Technically, tomorrow is the last day of WIFD. But I think I'm going to extend until Sunday, anyway! This is just too much fun!