Yesterday was the official start of "Week in Feminine Dress" on the Sense & Sensibility Forum. Most of you are forum members, but for any who are not, I'll give a brief explanation.
For one week, many of the board members dress femininely and post pictures or descriptions of their outfits on the forum. And "feminine" does not have to mean ultra-girly, ruffly dresses and high heels. Since my closet is made up entirely of skirts, the "feminine" aspect is not too difficult for me -- but I love participating because it makes me think twice about what I am wearing. Am I really trying to look my best, even if it's "just" for my family? Also, it's a great time to reevaluate my closet.
With all of that being said, here are pictures from Day 1!
I'm wearing a pink princess-seam blouse that I just finished up on Friday night. The skirt is one I've owned for several years, but never worn! It was a pale pink color that didn't seem to go with anything. I removed the dye, but even in beige it didn't seem to match anyting in my closet. Now it has come in very handy indeed, since it's the only skirt in my closet that matches the blouse I just made!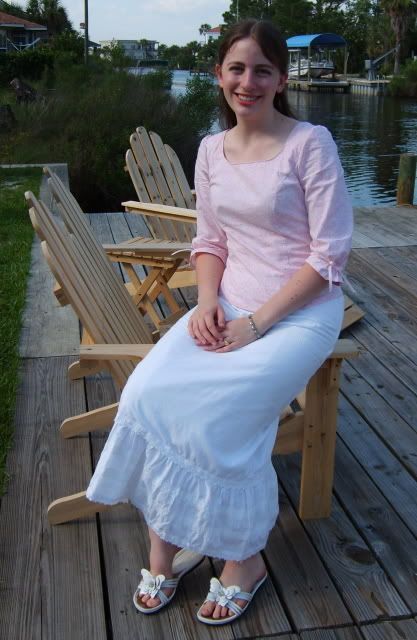 Here's a close-up of the blouse, since the print and design don't show up very well in the full-length picture:
Happy WIFD to all of the forum members!