"I will
greatly rejoice
in the Lord, and my soul shall be joyful in my God: for He hath clothed me with the garments of salvation, and covered me with the robe of righteousness: He hath decked me like a bridegroom, and as a bride attireth herself with her jewels."
~ Isaiah 61:10 ~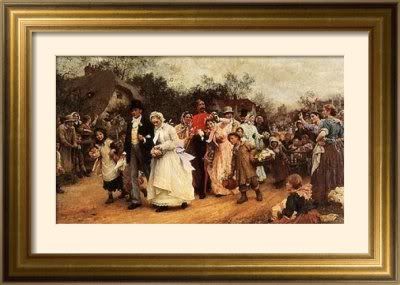 The Wedding Procession by Sir Luke Fildes

As much as I love sewing, historic costume, and design, the temporary garments that I make are nothing to the ones that Christ has given me. Only His covering will never tear or stain or wrinkle; only His robes fit perfectly. I find it so easy to get caught up in the everyday cares of life, disregarding the eternal gift I have been given and spending too much of my time on temporal pursuits. But, in truth, I should take as much care and time on my spiritual well-being as I would for my wedding attire if I were a bride.

Something for me to think about as I deal with a limited traveling wardrobe!