Have a mentioned that I now love the Pacific Northwest? The haze of the marine layer clings to the shore, shrouding rocks and trees in mist. From the spicy scent of Eucalyptus to the rocky shores and breakers, I think I loved every inch of our journey along the coast. Our "chauffeur" handled the crazy curving roads along the coast with expertise (I think he's watched too much of Jeff Gordon...).
After our bare, sandy Florida shores, it was refreshing to see craggy rocks jutting into the water, topped with evergreens.
As we drove north of San Francisco, we entered "Redwood Country." A spontaneous decision to follow signs to a "Drive-thru tree" led us to the Chandelier Tree: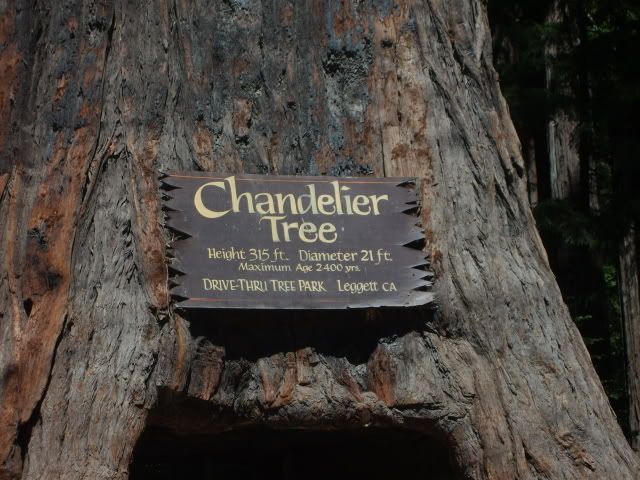 Our rental car looked delightfully vintage coming through the tree!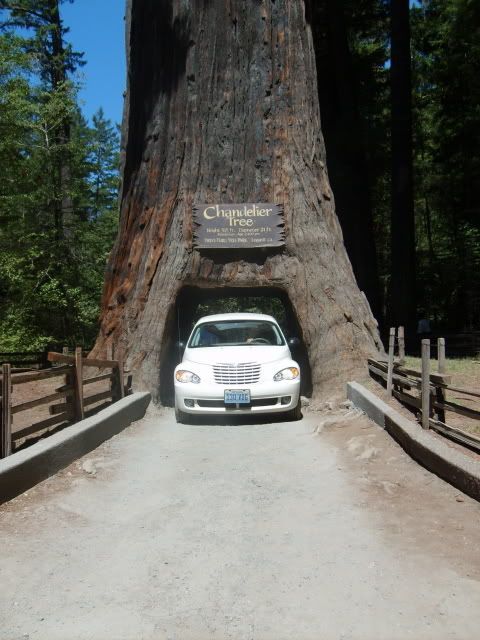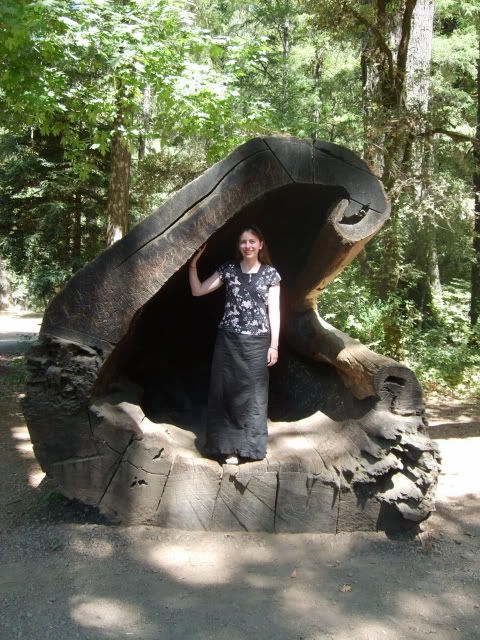 Our wonderful chauffeur, relaxing on a redwood bench: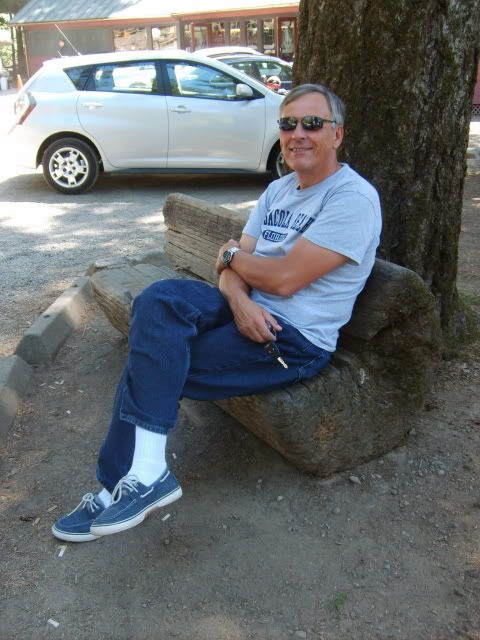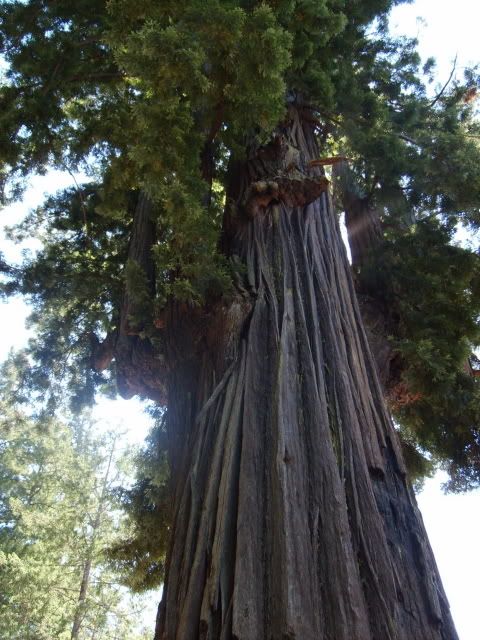 Heading north toward Oregon, we came across the little Victorian town of Ferndale, California. What a quaint, delightful town! The town was overrun with historic homes, but this cottage was my personal favorite:
This was certainly the smallest house we saw in town! We're still not quite sure of its purpose, unless it is a children's play house:
As we neared the Oregon border, we drove through Redwood National Forest. Forests are certainly my favorite places on earth, and this forest ranks near the top of my list. Sunlight filtered through the trees, casting a golden light on the forest floor. Enormous redwood trunks reached skyward, their tops lost to sight in the foliage above. We twisted our way through the forest, delighting in every new turn of the road.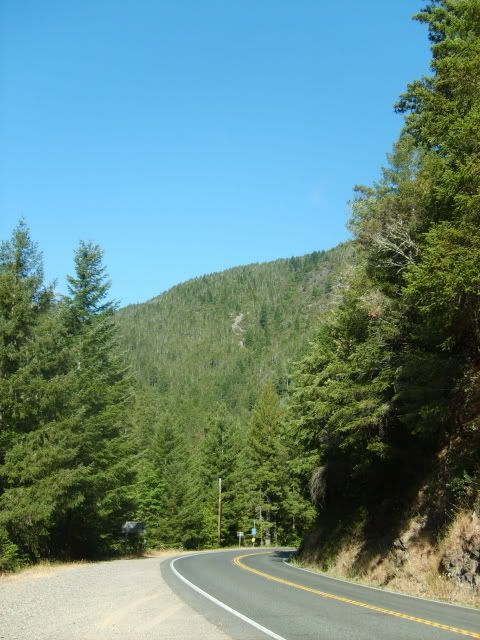 I wish I could have taken more pictures of the forest, but no camera could ever do it justice, anyway -- much less a Samsung point-and-shoot!
Seattle was our next destination. To our delight, we had beautiful, sunny weather during our stay there. Who would have ever thought that the sun could shine so brightly in Seattle?
We took the ferry from Bremerton to Seattle, a beautiful 1-hour way to get to the city. It was certainly "A Fare to Remember"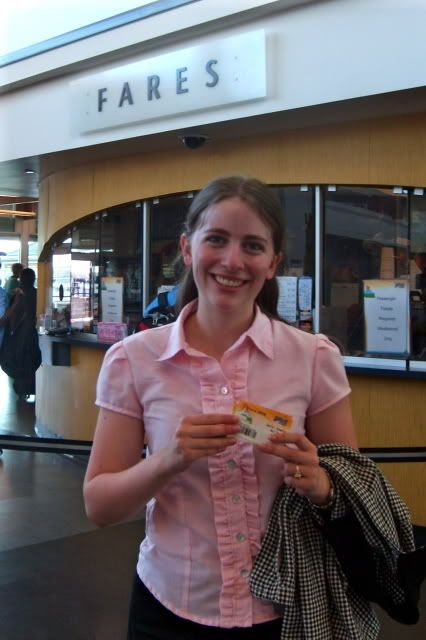 (Sorry, couldn't resist!)
We stayed in the historic section of town since we were limited to walking, with a brief jaunt into Chinatown for lunch. One of our favorite places was the Pike Street Market -- a queer several-storied building that houses all sorts of shops. Book shops, variety shops, antique shops, Egyptian shops (no joke!) -- anything seemed at home there! The upper story was a sort of open-air market, lined with flowers and produce.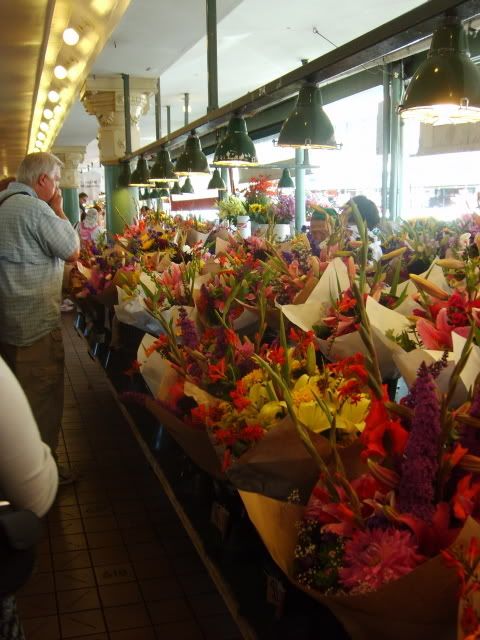 As we headed into the historic district, I saw a sign that said "
Lark in the Morning
." I could scarcely believe it! A friend had given me a catalog several years ago, and I had enjoyed browsing through pages of the most unique instruments I had ever seen. We simply had to stop by, and to my delight they had a
hurdy-gurdy
on display! Besides being a fascinating instrument, the name is positively delightful!
The historic district was lovely -- the architecture was wonderful, and there were trees on every street.
And, of course, no trip to Seattle would be complete without a visit to Starbucks! A frappucino and a pastry were very much in order (or very much
our
order!).
I should love to visit Seattle again, if I ever have the chance! It's too liberal for me to want to do more than visit, but all the same, it's a lovely city.
Sorry for all the pictures! These posts must take forever to load, but I really have tried to whittle it down. Really... *wink*