As we were planning our trip out West, we found that Las Vegas has some of the cheapest flights. We are not particularly fond of Las Vegas, but we thought we'd be pretty safe just flying into the airport and driving out directly. We knew we had arrived when we walked off the airplane and this was the first thing we saw: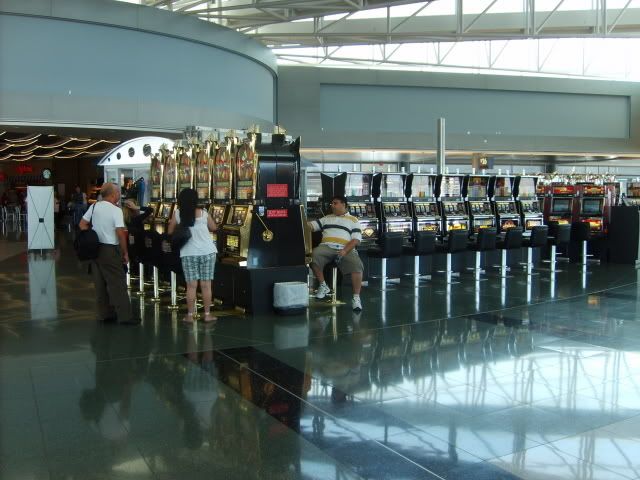 Let's just say that I'll never fly into Las Vegas again, if I can help it! The airport facilities were quite nice, but the airport itself was just vile. We hurriedly got our rental car -- a vanilla PT Cruiser (not our first choice, but it was fun nonetheless) -- and left Las Vegas.
Southern Nevada, by the way, is entirely desert. Brown desert. Miles and miles of brown desert!
We entered California in the evening and were blessed with a beautiful sunset: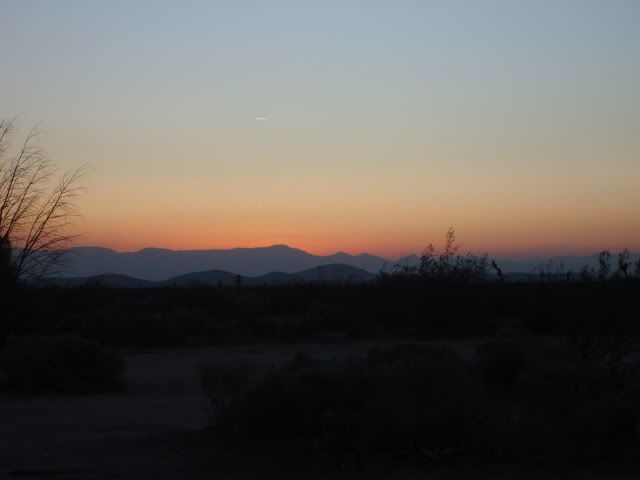 We continued heading west toward the coast of California the next day.
A field of oil pumps
:
My first sight of the Pacific Ocean:
Hearst Castle was our first real destination. Located atop a hill along on the California coast at San Simeon, Hearst Castle was a strange mix of time travel -- the castle was in its heyday in the 20's to the 40's, but the antiques that it was built to showcase often date many centuries earlier than that.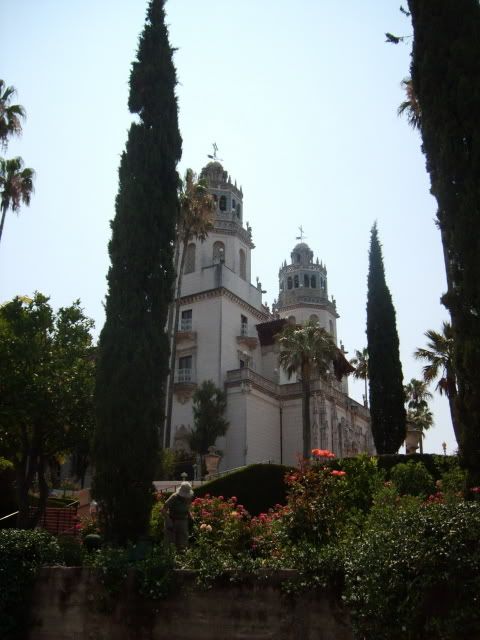 The gardens surrounding the Castle were incredibly lush. The foxgloves naturally caught my attention: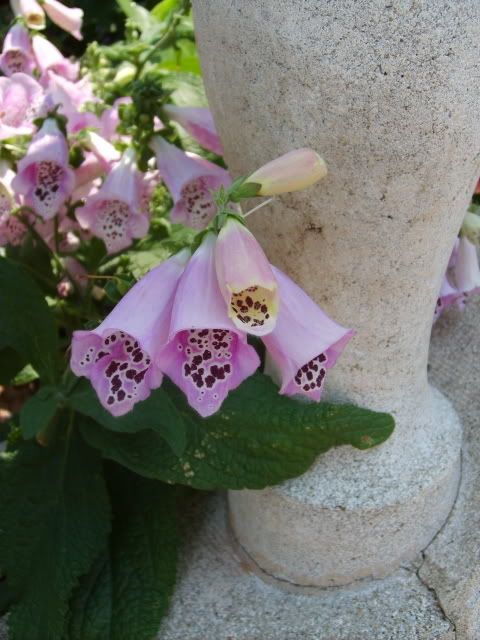 And the roses! Ooh, la la!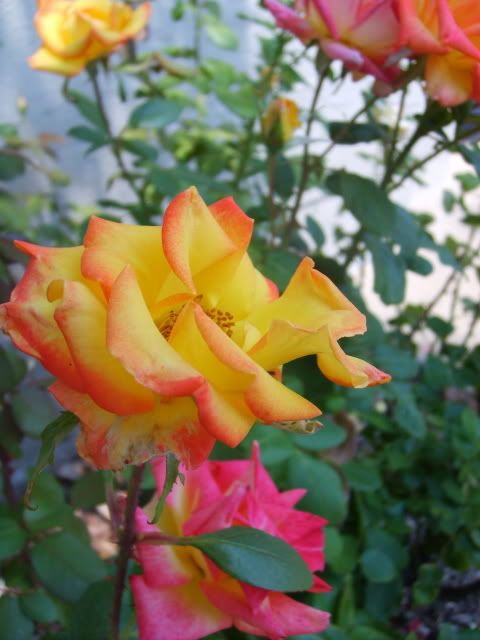 We opted for the castle tour that includes both the guest library and Mr. Hearst's personal library -- both were delightful! The castle was built to showcase the antiques that Mr. Hearst collected -- over 100 rooms! He hosted everyone from Cary Grant and David Niven to Charles Lindbergh and Amelia Earheart.
A glimpse of the famous Neptune Pool: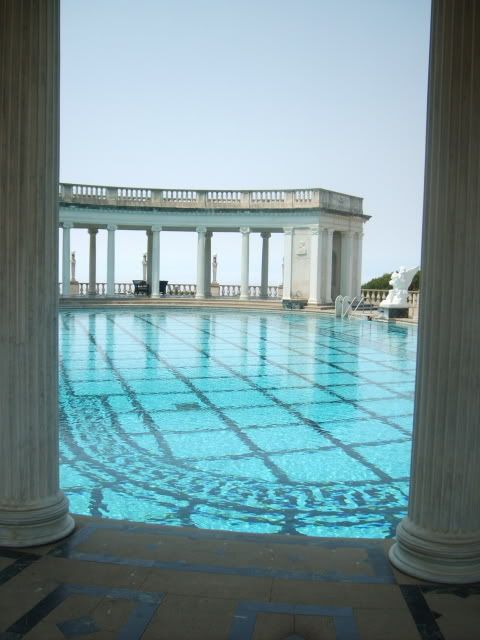 Here's
an aerial shot of the
"La Cuesta Encantada"
compound. Unfortunately, while pictures inside were permitted, we were asked not to publish them. If you're that curious, try a Google image search for "Hearst Castle." It truly is an amazing showcase (it's not a house by any stretch of the imagination).
After visiting Hearst Castle, we drove north to lovely Monterey, California. We decided to stop by the aquarium, which was delightful. My mother absolutely loves otters, but they're usually shy or asleep when we visit aquariums. At Monterey, they had four exhibits of otters, and all of them were wide awake and very playful!
The shore bird exhibit was quite nice, as well. Standing on one leg seemed to be quite the fad...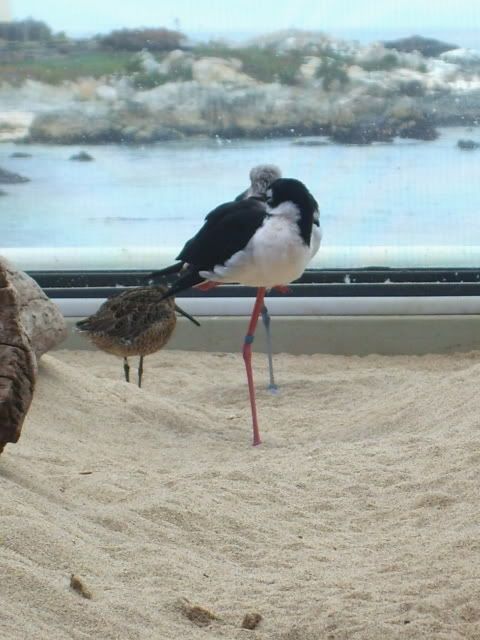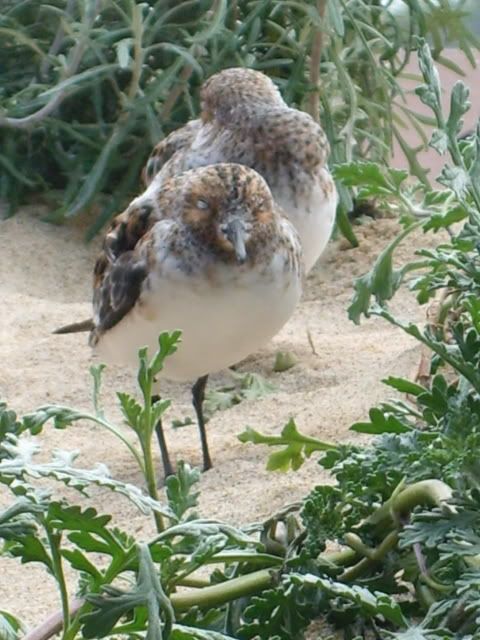 My favorite exhibit featured jellyfish of many varieties: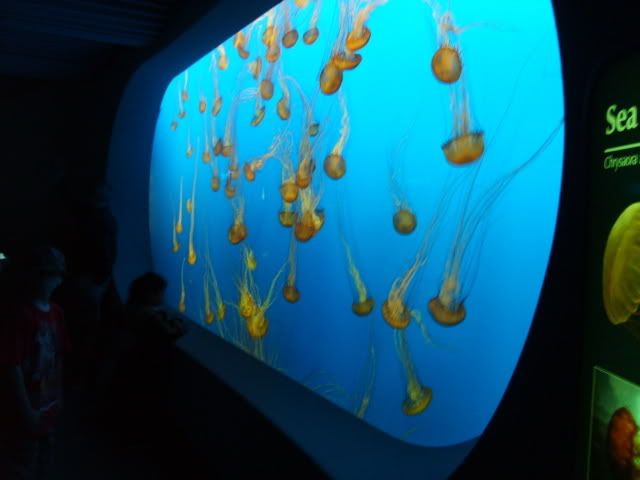 From octopi to sharks to diving birds, the Monterey Bay Aquarium was quite delightful (although very confusing to navigate). It's fascinating to see so many different species of sea creatures in one place!
From Monterey we traveled north to the Winchester Mystery House... but I'll have to save that for next time!