Rather than prolong my account of our journey out West, I will close the story with one final post (beware of many pictures!). Since life is resuming some of its normality (if it can be called that), I think it is high time for my blog to resume "normality," as well.
Leaving Cody, Wyoming, we traveled east to Mount Rushmore. We not only had the pleasure of visiting with dear friends, but also of receiving a personal tour from one of our friends (who is quite an authority on Rushmore and its politically incorrect history).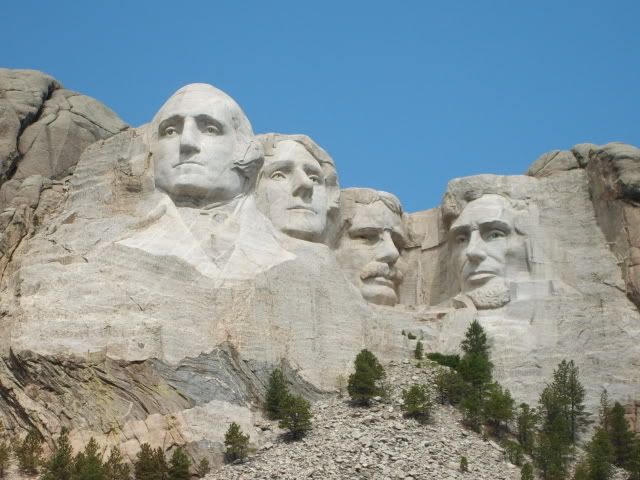 I was always rather unimpressed by pictures of Rushmore, but seeing it in person heightened my respect for its purpose and for the amazing feat of its creation.
Finally heading south, we stayed with some relatives in Northern Colorado. We had a rather winding ride up to their home, but this was the view we saw in the morning:
Denver was our next stop, and proved to be quite a delightful city (what we saw of it, anyway!). We visited a bookshop, which held a few treasures for Tiffany and me, and then proceeded to the Capitol building. The Capitol is absolutely breathtaking inside, and boasts a beautiful dome: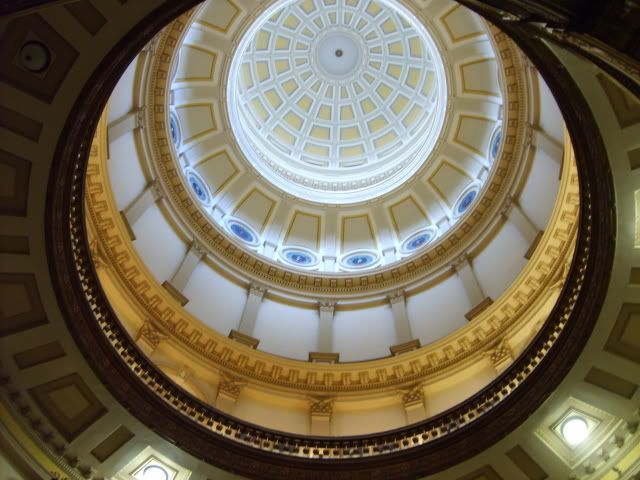 Denver Fabrics was also on our list of "must-sees," and proved quite wonderful, indeed! Never before have I visited a fabric store that encourages you to cut your own material. I have always had a secret longing to do this, and I finally got to indulge my fancy! While no longer affiliated with the internet website of the same name, Denver Fabrics was wonderful and I look forward to fashioning garments and such from the bargains I found there.
Near Colorado Springs is the breathtaking
Glen Eyrie Castle and Conference Center
, owned by The Navigators.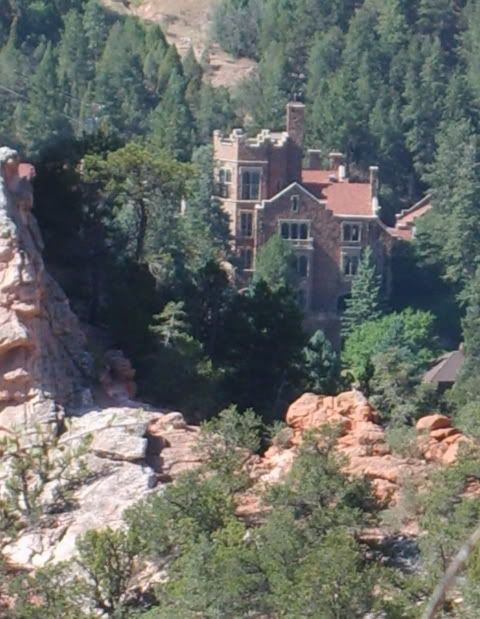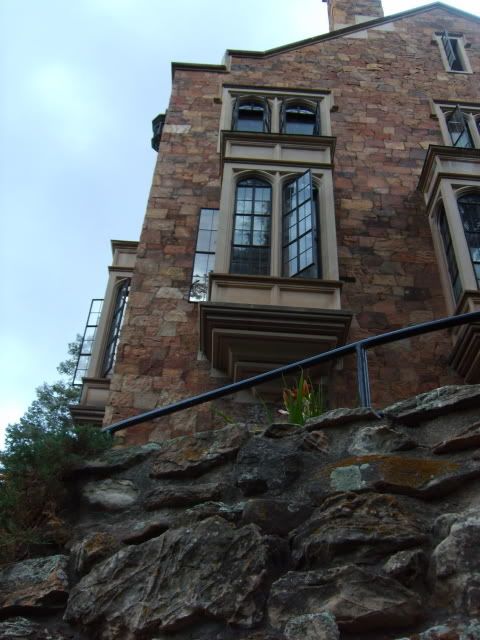 We stayed in the Castle for a night, and greatly enjoyed using the grand staircase and exploring poky little halls in search of our rooms. The Castle is actually available to view on tour during the day, so we had to disengage protective ropes from our doorways! My parents got to stay in General Palmer's room -- as the "fortune" behind the Castle, it was quite splendid and fitted with his original bedroom suite. The Castle also has wonderful hiking opportunities, which we took advantage of by visiting this canyon: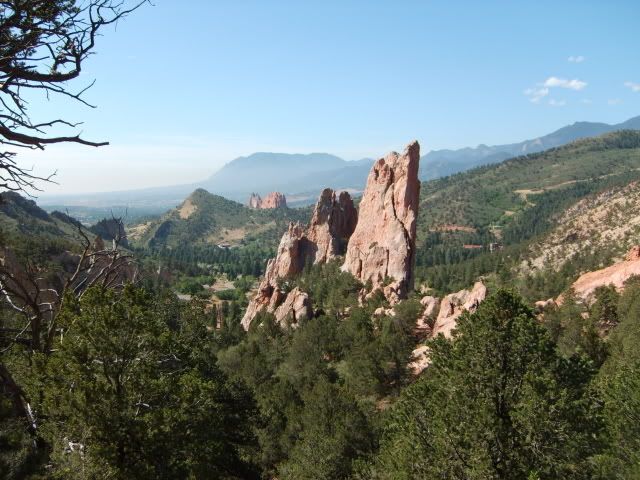 Some of the natural formations bore strong resemblance to very familiar things!
Traveling south and west, we visited the wondrous land of Monument Valley: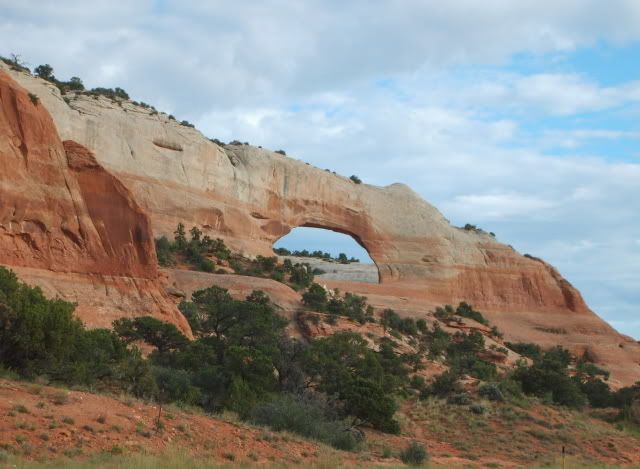 If we had only been riding on horses or in a covered wagon, we could have fancied ourselves settlers on the new frontier. But, alas, our wheels were rubber and our path was paved with asphalt!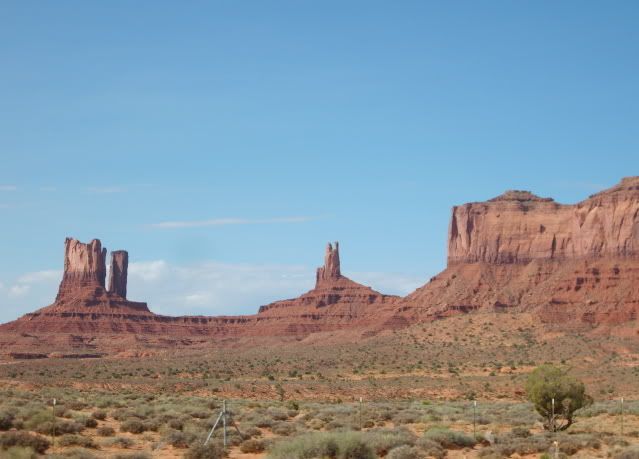 Saving (one of) the best for last, the Grand Canyon rounded out our Western journey. We chose the North Rim, and I am quite glad that we did! I wasn't expecting forests and meadows so close to the Grand Canyon, but was delighted by the surprise. Here is the view from the Grand Canyon lodge: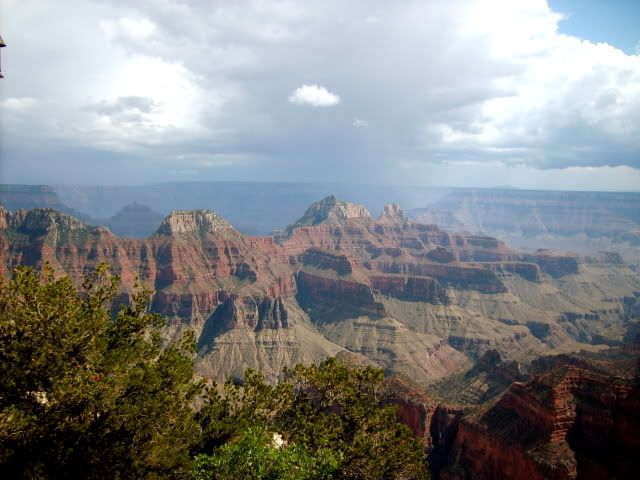 From our perch on the lodge patio, we watched a storm approach from the South Rim. Watching the rain advance on that landscape was unforgettable. What to do to while away the time until we could venture out again?
After the rain passed, we returned to the patio in time to see a cloud drift through the "viewing" room!
We visited another canyon, which we had quite to ourselves. My father and sister used their vocal power to create amazing echoes.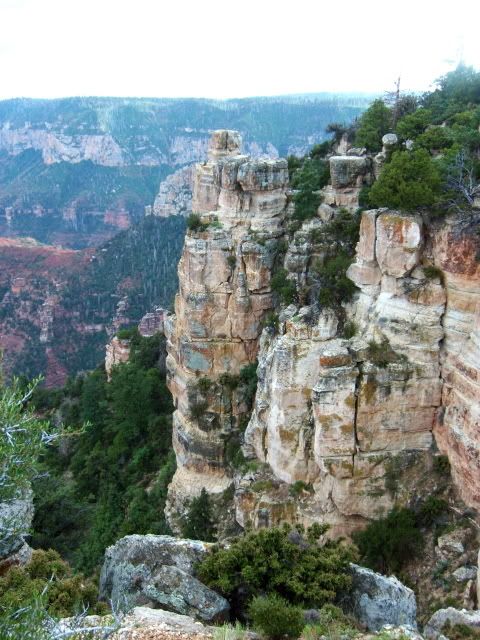 I have never seen such beautiful birches! Here I am in the uncharacteristic position of being called a "tree-hugger:"
Tree-hugging (in its literal sense) is actually quite enjoyable...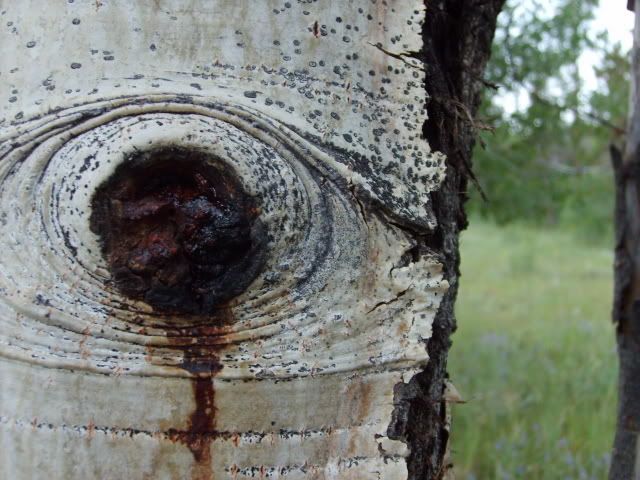 We left the Grand Canyon near sunset, but had to stop along the road to capture the beauty of the evening sky. I think it rather sums up our trip: