This doesn't exactly classify as a "recent project," but it's one that I've meant to share for some time! I try not to do too much impulse buying, but this was one time that I decided to give in.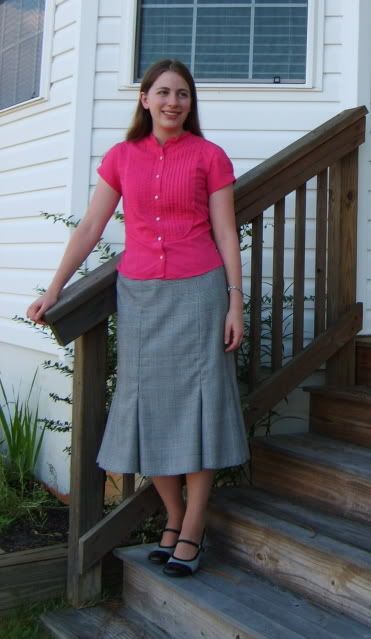 Several years ago, I came across a pair of hounds tooth vintage-looking heels on clearance at a local department store. Even on clearance they were $15, and I couldn't justify purchasing them when I had nothing to wear them with! That same day, I found some rayon-ish hounds tooth fabric in the JoAnn's clearance section. That settled it! I purchased enough fabric for a skirt, and commissioned my mother to purchase the shoes next time she was in town.
The pattern I used for the skirt was
McCall's 5192
(now out of print). I was very pleased with this pattern, although it is a bit shorter than I typically like. I think it has a bit of 30's influence -- I wish the picture showed the flare at the bottom a bit better!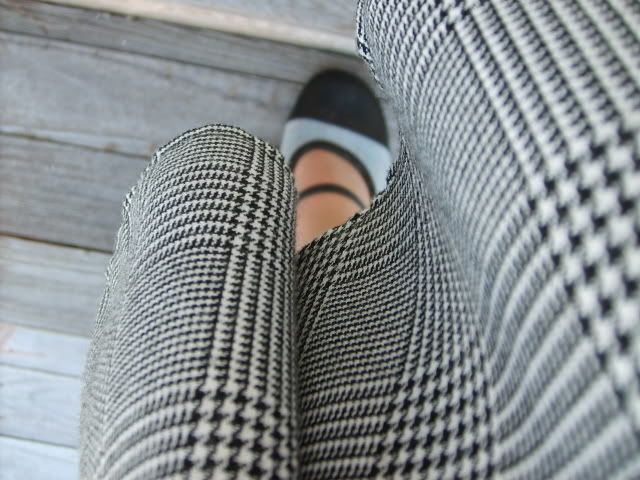 The fuschia blouse was a project I finished about a year ago, and decided to pair it with the skirt. I used
Simplicity 4499
and drafted a "tuxedo" front. The sleeves I designed using instructions in a copy of "Sew Beautiful" magazine -- the sleeve edge is placed on the fold, and is tucked at the bottom instead of gathered.
I love this outfit, even if I'm not used to wearing high heels! These are the only shoes I have that my male friends comment on -- one called them "Broadway dancing shoes," and I think his description is pretty accurate! Let's just say I hope this is the only time I ever base an outfit off a pair of shoes...