I was just tagged for a "7 Random Things" meme by
Amanda
(thanks Amanda!), but since I just complete "6 Random Things," I'll just tack on one more!
7. I love a good bargain. Who doesn't? But this conflicts with my inborn hatred for bargaining. Sometimes I'm brave and will ask for a better price, but usually I'd rather pay a few dollars more and avoid the possibility of an uncomfortable situation (in other words, I'm usually a coward).
Which brings me to last Saturday, when we stumbled across an estate sale on one of my favorite streets in a nearby city -- it was a good old-fashioned yard sale, really, but that's not quite classy enough for this particular street!
The first piece I spotted was a lovely floral pitcher which reminded me strongly of one that we purchased in England years ago. I've always loved it, and was delighted to find another! Come to find out, the lady who was selling it had actually bought it in England while visiting there.
A Wedgwood Queensware tea cup caught my eye next. Though it was a bit dirty, a quick scrub brought it into shape in no time:
And finally, a set of green stemware with a raised ivy pattern. They barely top 4" tall. Perfectly proportioned -- for a hobbit! I just couldn't resist them. Wouldn't a child just love these?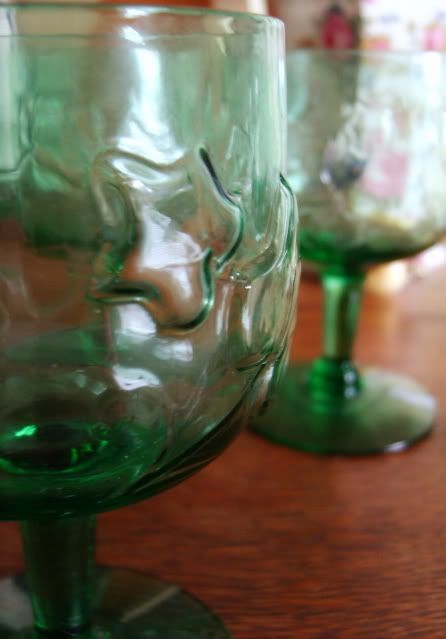 I did manage to "bargain" my way down $3, so I left with my treasures in tow
and
the happiness of exhibiting an extraordinary level of courage!
So there you go. Random fact #7 about me. Because you just couldn't live without knowing that, right?