After posting about the library booksale, I had many people ask questions about how I store all of my books! I decided to do a "tour" of my book collection -- to be quite honest, I was rather surprised by how many places I store books once I actually made a "list" of them.
First and foremost, I have a six-shelf bookshelf in my bedroom. I store my most-read and least-decorative books on this shelf, since it doesn't have much "exposure."
I was also granted some space in a vintage barrister bookcase that my mom found (now in our upstairs hallway) -- I have the top and bottom shelves, which I have filled with some of my historic books.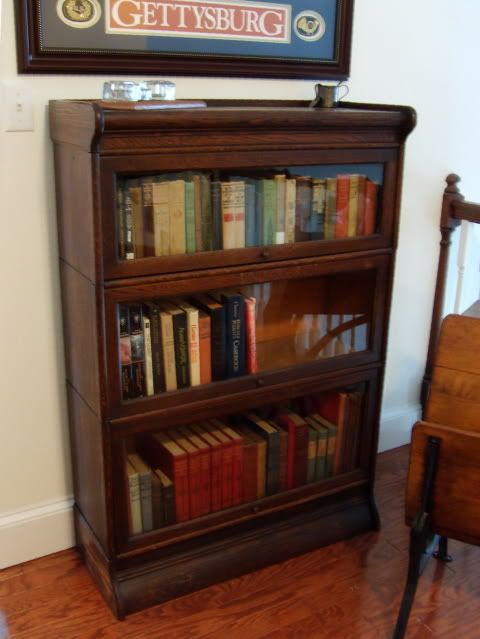 I must confess -- not all of my books are on display! I have three under-the-bed containers filled with books (mainly books that I don't want displayed, but want accessible). To my own horror, I do have several boxes of books in the attic -- all in small boxes, since large boxes are too heavy to lift. I try to store only paperbacks in the attic; none of my antique books will ever be banished from air-conditioned living spaces! One day, in my own home, I'll have space for all of my books. Until then, I try to limit what I buy (honestly!) or find creative storage solutions.
My sewing/crafting/homemaking books are stored on a few shelves of our sewing room bookcase -- identical to the one in my room. I've outgrown my two shelves, and need to find a new solution!
In our living room I have 5 1/2 shelves of our built-in bookcases, which is a huge blessing. I have some of my finest books on these shelves, since they are very visible. My set of Henty novels from Vision Forum are on display, as well as a set of "Messages and Papers of the Presidents" that a fellow bibliophile gave to me -- he already had another set! And, of course, my set of Dickens is here.
Since I'm a very bookish mood just now, I may post a few collection highlights over the next few days -- I hope it will be just as interesting to you as it is to me!