It's the start of "Week in Feminine Dress" on the
Sense and Sensibility Patterns Web Forum
! The idea is to dress in skirts and dresses for the entire week and post pictures. While I wear skirts 99% of the time, I like to take this opportunity to pay more attention to how I dress every day. It
is
possible to look horrible or even unfeminine in a skirt! But knowing that I'm going to have my picture taken every day and posted for people to see makes me think twice about just pulling something out of my closet.
Anyway, enough of the rambling! I actually didn't get a picture for Sunday, since my poor sister is sick. So I'm using a photo of the outfit I wore -- taken two Christmases ago at Colonial Williamsburg! I don't look the same after two years, hence the lack of a head...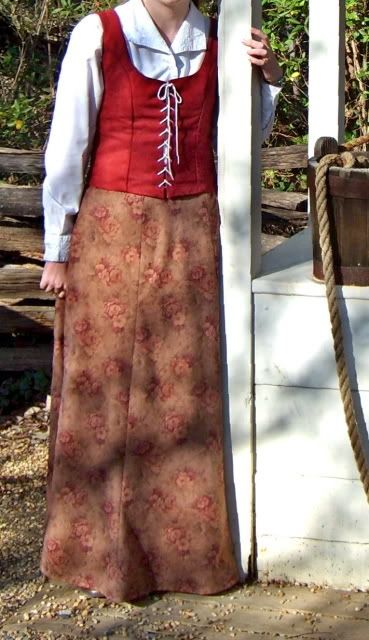 I made the vest and the skirt based on garments from the
Victorian Trading Co.
catalogs. We had a cold snap on Saturday, so I can finally pull out my fall clothing! It's been delightful -- crisp mornings, sun-warmed afternoons, and peaceful evenings. If only it could stay this way!
Happy WIFD! I look forward to a week of inspiration on the Forum and on the various blogs I visit!