Today was exceedingly busy! I teach several violin lessons throughout the day, and (usually) read the rest of the time -- both my father and my sister teach at the school where I give private lessons, so we all go in together and stay the whole day. Today, however, I didn't even pull my book out! I put the finishing touches on the teachers' uniforms, ran some errands, and chatted with my sister after school.
So this is me after a long day of lessons! I'm wearing a beige cable-knit sweater (very lightweight) from Carribean Joe, paired with my favorite wrap skirt -- a sage moleskin with embroidery and sequins. It was a clearance find at JoAnn's a few years ago. For the wrap skirt, I used these instructions:
Part 1
and
Part 2
.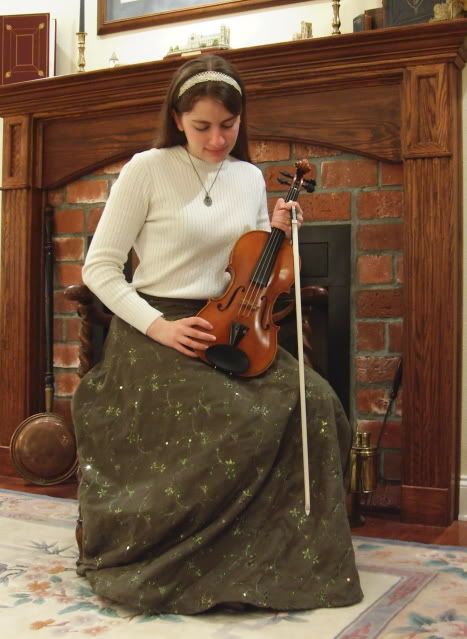 My headband is a piece of cream Cluny lace, made from my favorite
ribbon headband tutorial
. Have you noticed that I've worn headbands almost every day? Yes, I really do need to branch out!
And, though you can't see them in this picture, I'm wearing my Mudd Mary Janes -- again!