Elizabeth at
In My Own Little Corner
tagged me for one of the most delightful memes I've yet come across!
Rules:
1. Pick up the nearest book (of at least 123 pages):
Life With Jeeves
by P.G. Wodehouse
2. Open to page 123.
3. Find the fifth sentence, which is: "I bet you are."
4. Post the next three sentences:
"I hope you're a good egg-and-spoon racer, too."
"Harold's a bad boy. Harold squealed in church and isn't allowed to come to the treat."
5. Tag five people.
I can't possibly pick people to tag! It's too hard to choose, and I wouldn't like to leave anyone out. So if you like this meme, consider yourself tagged!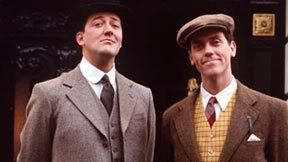 Oh, and just in case you were wondering -- that excerpt from Wodehouse is from the story, "The Purity of the Turf." I'm sure any Wodehouse fans out there figured that out from the mention of the egg-and-spoon race and Harold...