Personally, I prefer mine frozen, falling from the sky in feathery flakes! While I love the thought of snow at this time of year, those of us who dwell too close to the equator must satisfy ourselves with the liquid version. And at this time of year, we have plenty of it.
Isn't it just wrong that our hibiscus is blooming right now? And not just blooming, but flourishing!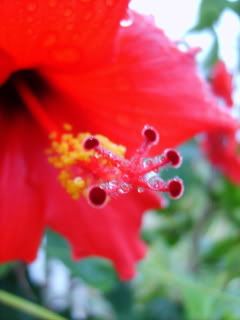 But then again, last week it was cold enough to snow. We don't live in Florida; we live in the state of meteoroligical indecision!
I hope everyone else out there is having a happy, healthy, and (preferably) white Christmas season!