We spent this past weekend at a conference in Columbus, Georgia. I was so blessed to be able to meet a few fellow bloggers -- Jessica of
Seasons of a Heart
, Emily Rose at
Simply Vintage Girl
, and Breezy at
A Bowl of Moss and Pebbles
. You should take a look at their beautiful blogs! It was so delightful to see "familiar faces" where I expected to see only strangers!
I brought along a new skirt, made from -- well, if you've seen any of the skirts I've made in the recent past, you can guess which pattern it's made from! --
McCall's 5431.
I lengthened it several inches and made it from a navy poly-blend that has a beautiful drape (left over from dress commissions I had for some teachers at a local Christian school). You just can't beat free!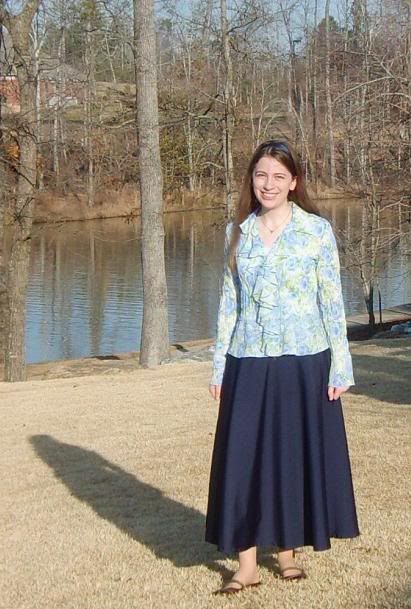 The blouse was a Christmas gift from my mother; I had seen it in one of our favorite consignment stores, but couldn't bring myself to buy it since I didn't *need* it. Mom put me out of my misery!
The conference was challenging, thought-provoking, encouraging. It's made me reevaluate how I spend my time. It's made me reconsider my priorities. And that's a good thing! But even after two nights away, it's good to be home.