Another day draws to a close! I didn't even think about WIFD when I went into my closet this morning; I just wanted something cozy and warm. A sore throat has me suspicious, so I'm hoping that plenty of Vitamin C will ward it off.
Today I revamped the Jane Austen card samplers in my
Austentations
shop and prepared several new sets. And a twin duvet cover that my mom found on clearance at Linens 'N Things has been transformed into a set of curtains for our living room. I'm hoping that I'll be able to mark off more of my mental "to do" list tomorrow.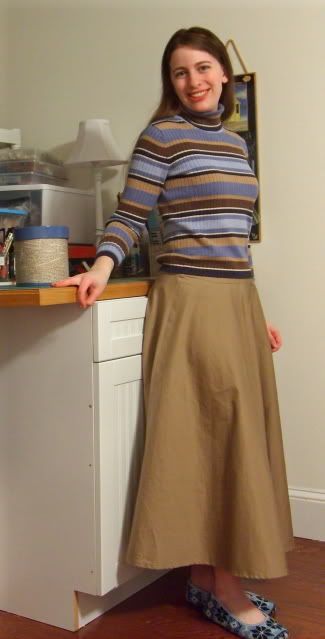 My top is a striped knit turtleneck from Talbots, and the skirt is a "recent model" of
McCall's 5431
. A few months ago I also made a petticoat out of McCall's 5431, which has served me very well with the skirts I've made from that pattern (and many others, as well!). No shoes today, since I stayed at home -- but slippers were a must!
Well, on to Wednesday!