It's been quite a while since I posted a sewing tip (and I'm not quite sure this "counts" as a sewing tip!). But it's something that's certainly helped me, so I thought I'd share.
Since I do quite a bit of thrifting, I sometimes come across a garment that I like, but isn't *quite* right and usually I don't find out that it's not *quite* right until I've gotten it home. The optimism I felt at the store just won't make sleeves a tinch longer, or make the buttons a smidgeon cuter. So sometimes my clothing has to be "repurposed."
For instance, I just finished modifying two long-sleeve shirts. One was a plain white shirt with very plain buttons. There was nothing wrong with it, but I just didn't wear it. So I cut the sleeves down to 3/4 length and put on new buttons (I just
happened
to have the exact number of buttons in my stash -- a little bit pearly, and just the right size). Voila!
The other shirt was a bit tight in the sleeves, but it was an adorable eyelet fabric that I couldnt resist. I modified twice -- I tried 3/4 length sleeves first, but they were still too binding. So I chopped off some more, and had enough left over from the sleeve to make a little pleated ruffle: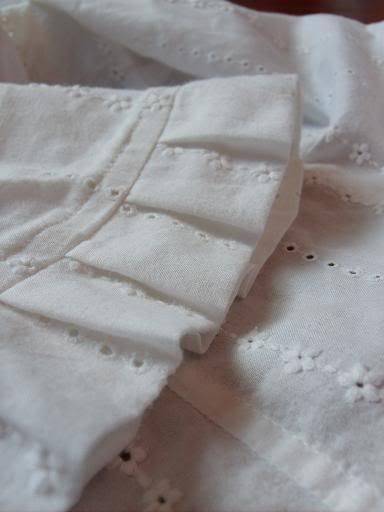 I bought if for less than I would have paid for the fabric, and it took much less time to alter it than it would have taken to make it. Cheaper + easier + cute = Happy Me!
Other repurposing can include buying a garment for the buttons (Those $1 deals with ten or twelve mother-of-pearl buttons are great!), cutting it apart for other uses (bags, bias tape, pincushions, you-name-it), and even using dresses or skirt to make a whole new garment (those pleated skirts from the 90's have the most beautiful rectangles of fabric).
While I'm not a "Save the Planet" kind of person, I do think it's good old-fashioned stewardship to re-use what I have (or what others have had before me!).