For our church's annual Easter brunch, I decided to pull out a favorite muffin recipe that I hadn't used in a while.
Oatmeal-Applesauce Muffins
~ 1 cup Quick Oats
~ 1 cup all purpose flour
~ 1/2 cup packed brown sugar
~ 2 tsp. baking powder
~ 1/2 tsp. ground cinnamon
~ 1/4 tsp. baking soda
~ 1/4 tsp. salt
~ 3/4 cup applesauce
~ 1/3 cup vegetable oil
~ 1 egg
~ 1 tsp. vanilla extract
Preheat oven to 400 degrees F. Grease or paper line 12 (2 1/2") muffin cups.
Combine oats, flour, sugar, raisins, baking powder, cinnamon, baking soda, and salt in large bowl.
Combine applesauce, oil, egg, and vanilla in separate bowl. Add all at once to oat mixture, stirring just until moistened.
Divide evenly among prepared muffin cups. Bake 20 to 25 minutes or until tester inserted in center comes out clean. Makes 12.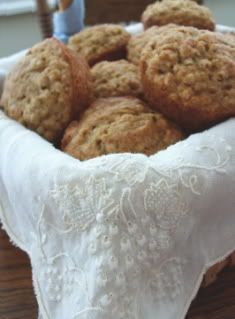 Pretty frugal, pretty healthy (for muffins, anyway!), and entirely delicious!