During a casual browse at T.J. Maxx, I encountered a tubular canister containing Italian amaretto cookies. I knew immediatetly that I wanted it. But not because of the cookies; not because it of the amaretto; not even because it was Italian.
It was because of this:
Yes, it was the flower fairies that attracted me.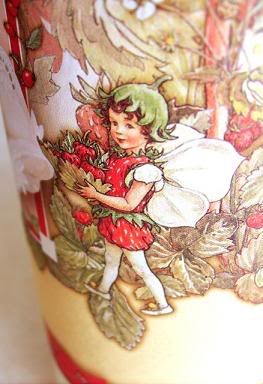 I would definitely classify myself as a fan of Cecily Mary Barker -- her depictions of flowers and their corresponding fairies are delightfully captivating! You can find her biography, her fairies, and current products at the
Flower Fairies website
.
My dear mother purchased it clandestinely (she's remarkably stealthy in these situations!). Fortunately, the cookies were very good! Ah, the power of marketing...