For those of you who, like me, have a "healthy" collection of fabric (*ahem*), storage always poses a problem. Even with a fairly large sewing room, I never seem to have enough room for my fabric. So the attic houses some of my stash, mostly thrifted finds that I plan to use in the future and leftover formal fabrics that are waiting for the perfect project.
But chances are I'd forget exactly what I have in storage if it weren't for this: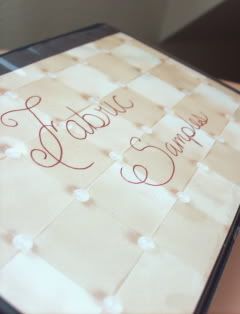 Using a little 3x5" index card binder, I can keep track of all of fabric and know at a glance if I have enough.
On each card I staple a sample of the fabric, along with the width, yardage, and the box it's in. On the side I write the main color of the fabric, and then organize it in my binder according to hue. When I use the fabric or take it out of storage, I can just throw away the card.
Now when I need fabric, I can check my stash before buying something new. Inexpensive, handy, and a good reminder that I really don't need any more fabric...