After a major sewing room reorganization a few weeks ago, I have come to the conclusion that it is time to declare war! Uprooting every corner of our sewing room revealed to me just how much fabric I have -- not that it's nearly as much as some seamstresses claim to possess (although I tend to think some of their claims resemble those stories that feature ever-expanding fish), but it's definitely more than I need on hand!
The problem is, most of my fabric was a bargain (or even free). I don't generally buy yardage at a fabric store unless I have a specific purpose, so my fabric mountain has been growing without showing up on the radar (otherwise known as my wallet!).
And what happens when I do use some fabric? I end up with scraps. Lots and lots of scraps. And it's hard to just throw perfectly good fabric away, even if there are only a few square inches or feet left. *sigh* Not to mention those pesky UFOs (UnFinished Objects, to those not initiated in seamstress jargon)...
However, I'm determined to take stashbusting to the next level (i.e., full-out war). I've engaged in mild stashbusting in the past, but this time I'm determined to keep going until my fabric stash is the size I want it to be. Thank goodness for Etsy! I'm going to need some kind of outlet for all of this craftiness!
On a good note, the sewing room is much better (though not perfect yet). Here's a view of my newly re-done crafty corner: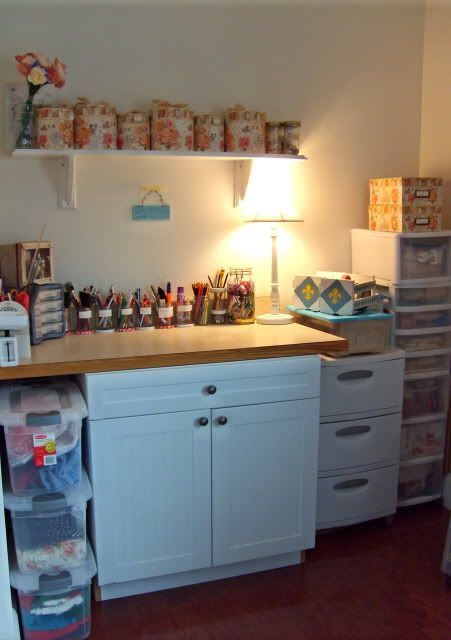 Does anyone else want to join the stashbusting campaign? Here's to the decimation of my fabric stash, the annihilation of my scrap collection, and the utter destruction (sort of) of my UFOs!
And though it pains my inner grammarian to say this, "Them's Fightin' Words!"