"...I buy books. If I have any left over I buy food and clothes."
-- Erasmus
While my sewing projects do seem to eat up a rather large proportion of my capital, my literary purchases certainly give them a run for their money. Needless to say, our recent library book sale provided me with ample opportunity to satisfy my yearning for books. Thirty-three of them, to be exact, along with twenty-five magazines.
The magazines were actually vintage copies of "The Etude," dating from 1917 to 1949 -- utterly irresistable for both their musical and antiquarian allure.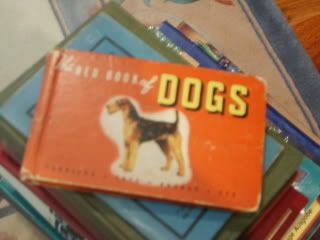 And for only 50 cents I found this little gem, published in 1941. It would be just perfect for decorating a little boy's room.
Some of my favorite titles?
--
The Little Princesses
, by Marion Crawford (nursemaid to Princess Elizabeth and Princes Margaret)
--
John Adams
, by David McCullough
--
Bobbin Lace Making for Beginners
-- Two volumes of
Horatio Hornblower
, by E.S. Forester, in German
--
The Laura Ashley Guide to Country Decorating
Here is a snapshot of my sister and me, with our assorted treasures arrayed in front of us while we sip at the Starbucks treats we picked up on the way home: