In search of a new skirt pattern, I came across
McCall's 5274
(now out of print). I made a few minor changes that I found absolutely necessary -- first of all, no seam allowances on the outside! I have taken great pains throughout my life to avoid having my seam allowances show, and I do not plan to change this now. Also, no fluttery inserts or sheer godets. Just plain and straightforward.
I have an ankle-length khaki skirt, but I wanted one a bit shorter that would be cooler in Summer and would be more practical for outdoor Summer activities. This skirt is about mid-calf-length, and it fits the bill perfectly.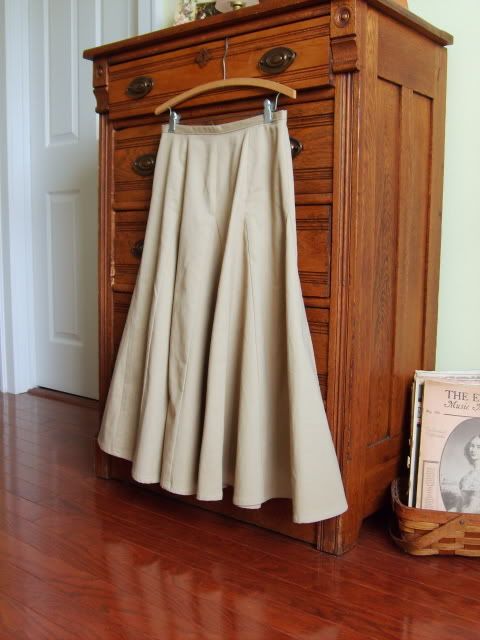 The fabric was a $2 a yard poly-cotton blended that I found at Wal-Mart. It's a heavy fabric that suits this skirt very well. I measured the width when I brought it home, and discovered that it was a whopping 72" wide! I think I have enough for a jacket this fall.
I'm glad that this skirt was casual enough for a machine hem, because that hem was long. Very long!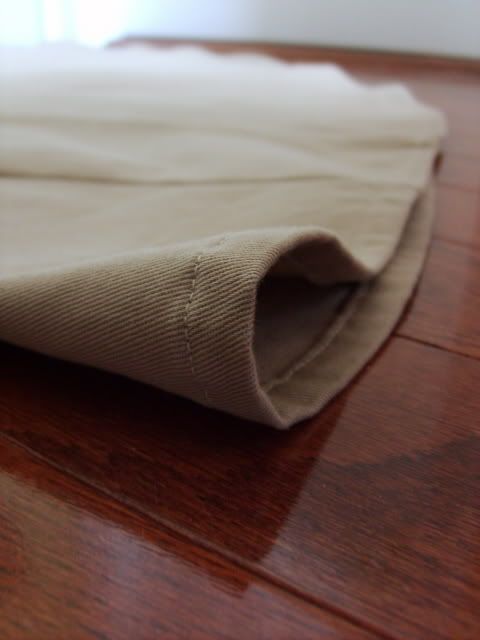 A serged seam is a thing of beauty; a thing of beauty is a joy forever; so a serged seam must be a joy forever! I love my serger, and can't imagine life without it. Of course, it hasn't always been this way -- I came close to throwing it out of a second story window several times before I discovered the itty-bitty problem (one of the threads wasn't pulled correctly into a tension disc) that was messing up the whole stitch. Live and learn.