About five years ago, my parents traveled up to Baltimore to help my paternal grandmother empty her town house. She was making the dreaded transition from a home of her own to a small apartment in retirement community. But at nearly ninety years old, it was time. Her basement yielded many treasures, not least of which was her collection of vintage patterns from many years of sewing to supplement her family's income. But another treasure that parents brought home was a stack of old snapshots from the early 1930's.
My grandmother came to live with us three years ago. It was the perfect opportunity to ask her about the snapshots, and, armed with a pencil and a sheet of paper, I asked. Almost without exception, she could remember the names of the people in the photographs -- people who had been no more than faces to me, but people who were real to her. I learned the stories of some of the curious photographs that had always puzzled and delighted me. But that was nothing to watching my grandmother's face brighten at the happy memories that came flooding back to her through those brief, captured images of a time long past. There was sadness, too; she was the only one in the pictures who was still living. And a less than a year later, she too was gone.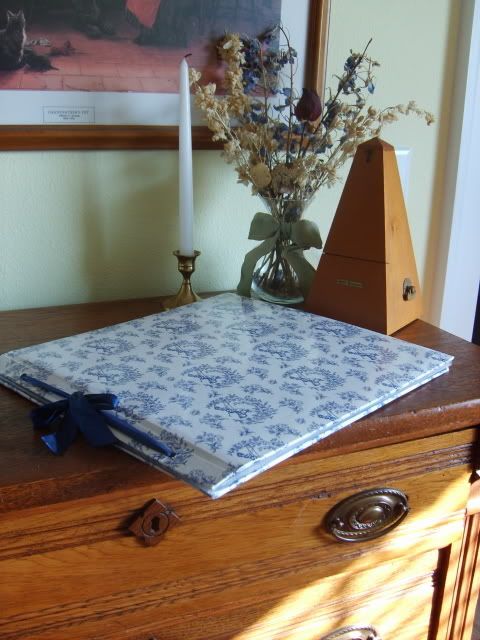 But before she died (at the age of 91), I made an album of the pictures. It was partly for her -- she was delighted when she opened the cover and saw the photos laid out with the names beneath each one -- but it was also for me, for my family, and for my own children one day. Because those memories are the only glimpse we have into the lives of some of the people who were dearest to us.
There was a whole page of photographs of my grandmother, Anne.
I love this photo of her sitting on the running board of a car. She was 17 years old at the time. What I wouldn't do to own that car!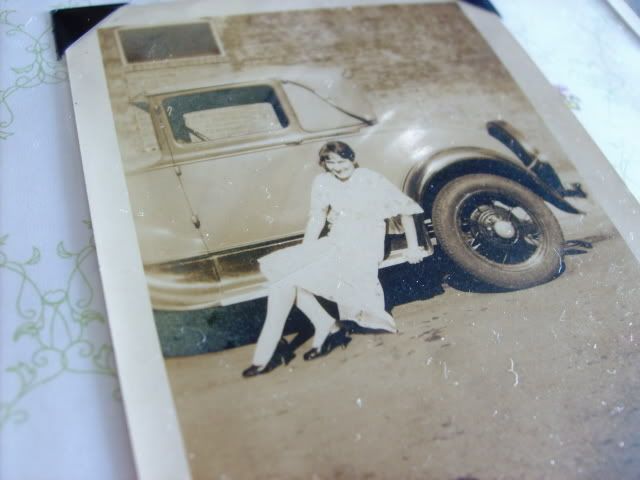 This young man had just had his appendix removed:
I think this snapshot is so sweet and whimsical: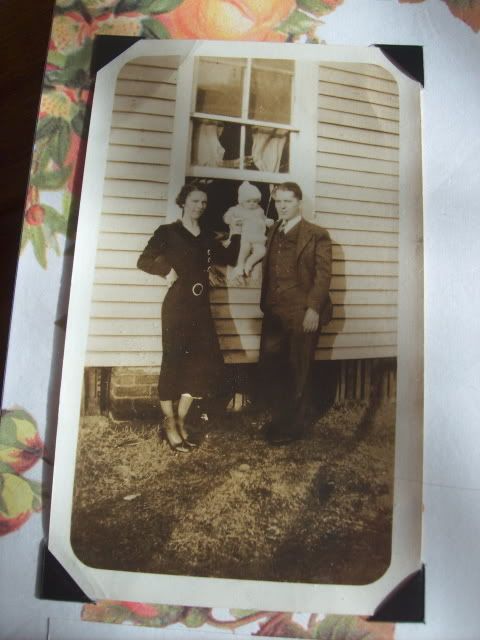 The gentleman hiding under the hat in this photo has his tongue extended!
I would love to know how this photo was taken, and why on earth those two young men were playing around on beams: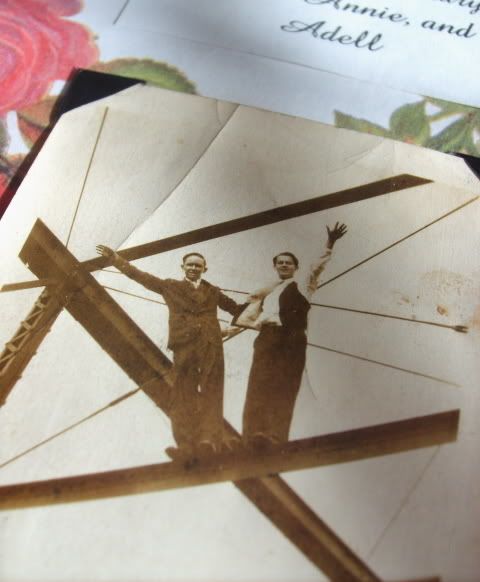 While many things in this photo appeal to me -- vintage fashion, weddings -- I think I like this photo primarily because of the (short) priest with the wild white hair, peeking over the shoulders of the happy couple: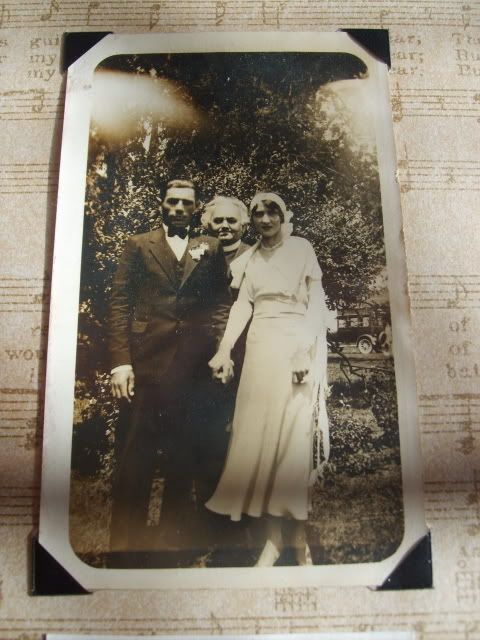 This is one of the few photographs I have of my paternal grandfather, Frank (he's on the far right). I never met him because he died when my father was only eighteen years old. Because of that, he has always been something of an enigma to me. I can see in his face traces of my father and my uncles. I don't think I've ever seen a picture of him without a smile on his face.
Now as I look back through the album, I find the photographs just as tantalizing as they were before, even though I can put names with most of the faces. Baseball games, picnics, weddings -- I wonder what was said, and what the people were thinking.
And, of course, I enjoy the vintage fashions!