1. Take one yard of fabric. Mix pieces from various patterns well. Apply to fabric and cut it into shapes.
2. Add a few yards of lace:
3. Incorporate all of the ingredients, shaping fabric into ruffles...
...and tucks.
4. Combine with eight almost-matched vintage pearl buttons:
5. Decorate as desired: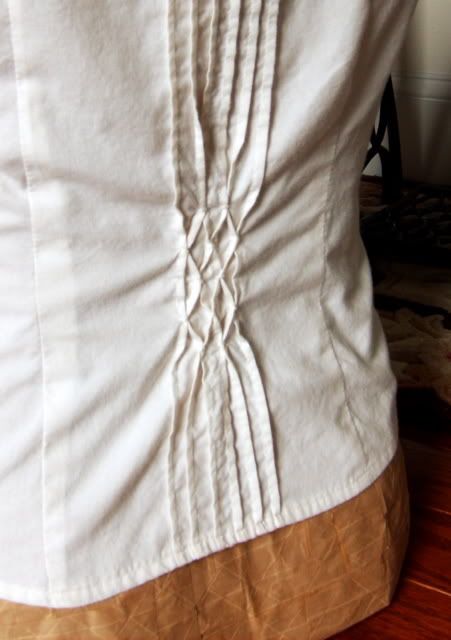 6. Sew well, until blouse emerges complete:
Note: The back should and front should both be well-done before removing from the sewing room.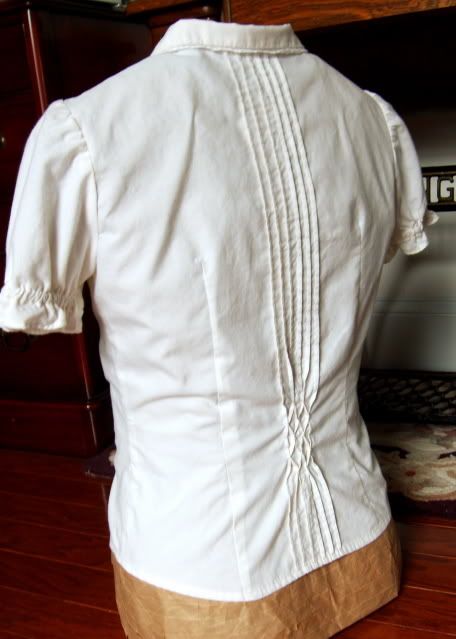 This is quite possibly my favorite blouse so far. The inspiration for it came from a recent browse on the Cath Kidston website:
Embroidered Cream Lace Shirt
. Not wanting to spend $110 on a blouse, I decided to take the idea to the drawing board.
I used out-of-print
Simplicity 4499
(no surprise there!). I've actually transferred this pattern to nonfusible interfacing because my original pattern is basically in shreds. To do the lace along the front, I reluctantly gave up my easy fold-over front placket (one of the things I
love
about this pattern!). I interfaced the facing, serged the edge, and sewed it on (after applying the lace to the other side). One hint to save lace -- and trouble -- is to taper off the lace a few inches down on the "button side;" it will be overlapped by the other side, anyway. For the back, I took six tucks (a last minute decision before cutting my pattern out -- I just moved the back away from the fold about an inch).
Of course, I can't use just one pattern!
I used the collar top from
McCall's 4922
and elongated it a bit to make it work as a fold-back collar. I also did lace around the collar, which was a bit tricky.
The sleeves are from
McCall's 5138
. I lengthened them about an inch, made a narrow hem, and added a fabric casing on the inside as a channel for elastic. I applied the casing before sewing the sleeve together, except for about 2 inches at each end. I sewed the sleeve together, and then folded the remaining casing ends and sewed them down. It was a bit complicated, but it was worth the trouble!
For fabric, I used a soft pima-cotton sheet that I found for $3 at a thrift store. It's still in good shape, and is delightfully soft to wear.
But my favorite detail of the blouse is the "smocking" detail in the back. I had enough ease in the waist to do this technique, which I first discovered on a black thrifted skirt made in Italy. I sewed my rows of tucks together, alternating rows to create a diamond shape. I just love it!
All told, this blouse took one day from start to finish. My inspiration files are overflowing, so it was nice to check one off the list! But as summer comes ever closer, I think I'll have plenty excuses to dig into that file.