It seems as though every time I visit the
April Cornell
website, I end up saving at least half-a-dozen garments to my "Inspiration" folder. Their pages of delicate, feminine garments never fail to send me to the sewing room! I was introducing the website to a friend when I came across the
Posy Skirt
.
I couldn't resist. Could you?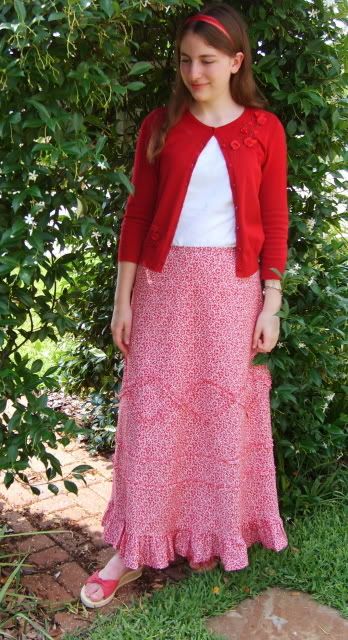 I had a red-and-white print for a skirt in my stash, so I pulled out an A-line skirt pattern (Butterick 3262 -- a lovely pattern that has now gone out of print). I chose the "mildly flowy" view. Also, I left the length of the pattern alone, as I prefer longer skirts. As the pattern cover promised, it was fast and easy! Well, the actual construction was easy. The embellishment was much more time consuming. It's a bit difficult to see, but you can see it better if you click on the picture: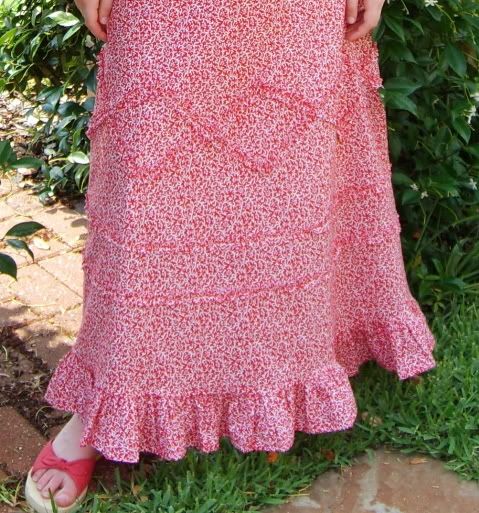 I ended up sewing roughly 35 yards(!) of basting stitches, counting the lower ruffle and the bias ruffle pieces applied to the front. The original has a double diamond design, with each diamond forming a perfect square. I decided to try a simplified diamond design that would allow me to align my diamonds perfectly. Using the technique that I discovered earlier, I cut bias strips (approx. 3/4" wide), ran two rows of gathering stitches, aligned them, and sewed right down the middle.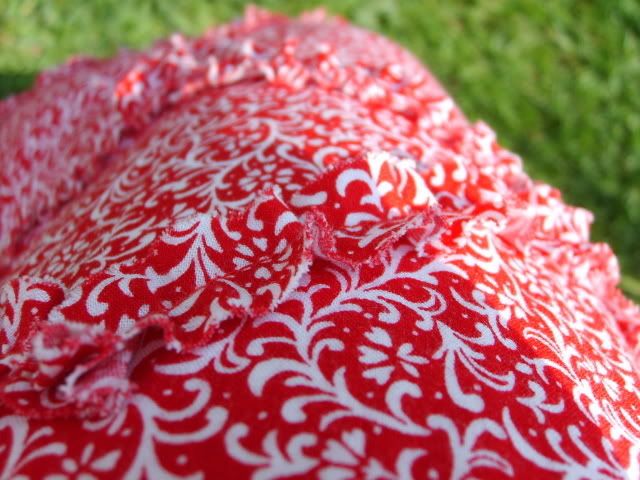 It's not difficult to sew them, but the gathering and aligning were tedious (to say the least). Still, I'm very happy with the finished project. The skirt fits beautifully, and the invisible zipper on my left hip makes me very happy -- primarily because it is invisible! I'm waiting for a sale or coupon before buying some Cluny lace to put just above the ruffle -- although I'm not sure it will ever make it on. I'm too happy with it the way it is.