As I was contemplating my fabric stash recently, I couldn't decide what to do with a piece of red cotton that I bought a few years ago. I had purchased it to make a blouse, and at $1.88 per yard it was quite a bargain. I realized that it would go perfectly with a thrifted red floral rayon skirt that my mom had once purchased and no longer wanted.
"The Pattern,"
Simplicity 4499
, has the option to add some Western styling to the blouse. I opted not to used their methods, but I did use the idea -- with this result:
I used a different sleeve and collar pattern to get the look I wanted.
I made several bias strips, folded them in half, and sewed them to form tubes.
Ironed flat, I could top-stitch them to the blouse with invisible stitches as decoration.
A longer piece served as a tie for the lacing I decided to add to the back. I simply added fabric loops to the darts and fed the ties through. Presto!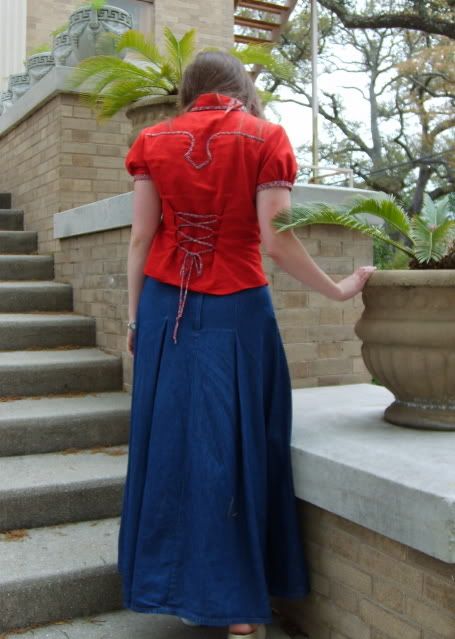 For the collar, I simply used a bias strip to sew around the two layers of the collar. After clipping, pressing it under, and slip stitching to the bottom side of the collar, I was done. It was nice to depart from the typical "right-sides-together" collar.
The buttons were new additions to my stash, salvaged from a condemned garment -- they were delightfully Western, and there were plenty of them!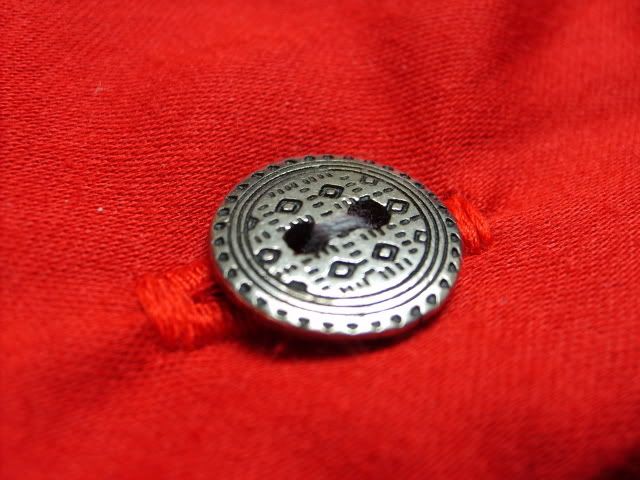 The bias strips only used the front half of the skirt, so I used the back half to make myself a headband. I cut it on the bias to add some stretch (and discourage fraying), then used Fray-check to bind the edges. It worked marvelously, and was so easy. You can see the ends peeking out over my shoulder.
Stashbusting and another addition to my summer wardrobe -- What a perfect combination!