Over the past few years, I have been racking my brains trying to come up with a modest swimwear solution. I've been avoiding swimming because I always felt uncomfortable, even in a conservative one-piece with shorts on over it.
While people have widely diverging thoughts on modesty and there is no "one size fits all," I thought I would share my solution -- partly because I'm excited to have found it, and partly because I hope this will be helpful to those who have the same concerns and criteria that I had!
First, I wanted something that I wouldn't be ashamed to wear to the grocery store -- not that I would necessarily wear it there! But I didn't want a swimsuit that I would normally consider indecent to wear in public.
A few years ago, I bought a lone tankini top on after-summer clearance for about $10 from Beall's (a department store in Florida). The only problem with it was that it was too immodest to be worn alone, and it was several sizes too large! But it was too adorable to pass up, so I kept it for a rainy day. This Spring, I finally figured out what I could do to solve my problem: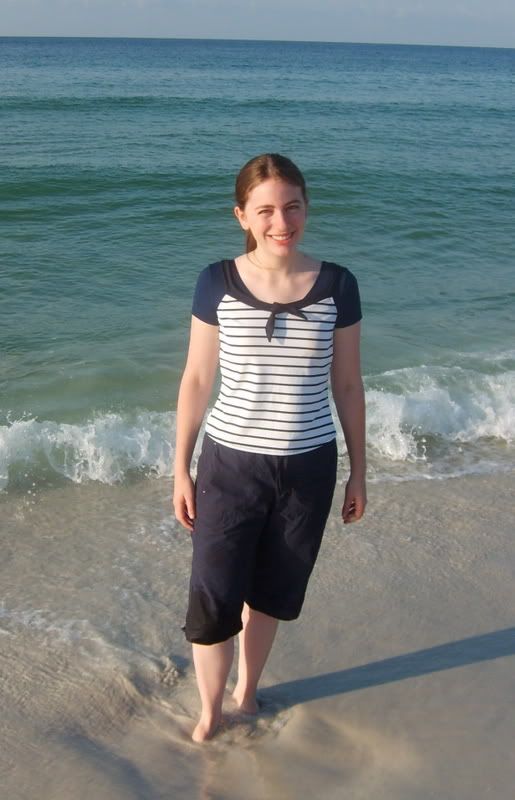 I purchased an inexpensive short-sleeved leotard from
NY Dancewear
-- it would have been much easier to find one if I hadn't already purchased my navy blue tankini top. A rash guard would also work as a swim shirt, making sleeves unneccesary on the leotard.
I am now glad that my tankini is a few sizes too big. I wouldn't want it to be skin tight, and the leotard underneath ensures that no skin is showing.
For shorts, I was very blessed to find some microfiber athletic shorts at JC Penney (on clearance!). I had been looking at board shorts, but they were hard to find in the right color and length, and they were also very expensive. My shorts are fitted, but not tight -- perfect for swimming.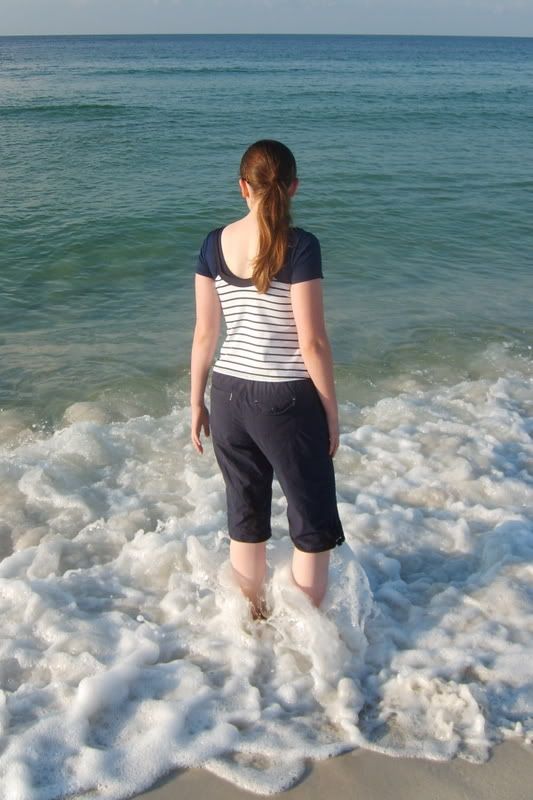 I have worn my swimsuit a few times already at the beach, and I love it! It's heavier than a normal swimsuit, but hey -- in the 19th century, some swimsuits weighed over twenty pounds!
I was able to put my swimsuit together for about $45, which is certainly comparable to what I would pay for a typical swimsuit in a store. And if I find other tankini tops that I like, I'll be able to mix-and-match.
I'm sure I get stares from other beach-goers in my "get up," but I've found that I don't really care! I would much rather retain my dignity than my pride.
And let me tell you, with how hot it is this summer, I'm very relieved to be able to swim again! Now if only the jellyfish would go away...