As I sat down to lunch today, the excited yapping of our neighbors' dog drew my attention. Not that yapping from the said dog is unusual -- quite the contrary! But this time the barking seemed more intense. As it turned out, the dog (if it deserves the name!) had a good reason: Charlie was out.
To be exact, Charlie was standing in our yard on the sea wall, facing the dog (who lives on the opposite side of the canal). I've never seen a heron adopt this posture before -- perhaps the wings are supposed to make him look bigger?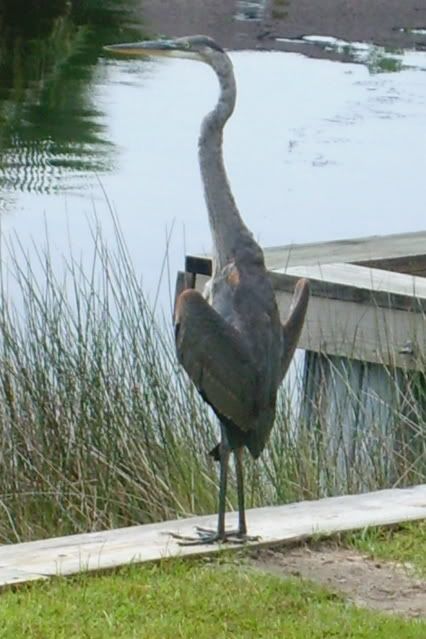 Our almost-next-door-neighbor, Mr. Brown, gave Charlie his name. He's been absent for quite some time, so I was very pleased to see him back! Of course, there's no way of knowing if it's the same heron, but I choose to believe that it is.
As soon as he saw me, Charlie stood straight as a ramrod and peered at me with his piercing amber eyes. Quite impressive.
At about four or five feet tall, he cuts quite a lanky figure when he's all stretched out. When I got too close, he stalked off into the neighbors yard to watch for fish. Apparently he doesn't like crowds. Or dogs!