From Monterey we traveled inland to San Jose to visit the Winchester Mystery house, built by the heiress to the Winchester rifle fortune. It has 160 rooms and 24,000 square feet of living area! Following the deaths of her baby and her husband, Mrs. Winchester consulted a medium (bad idea!). Supposedly, the spirits of all those who had been killed by Winchester rifles were angry at her -- and the only way to appease them was to keep building and never stop. I'd love to know if that medium was married to a carpenter...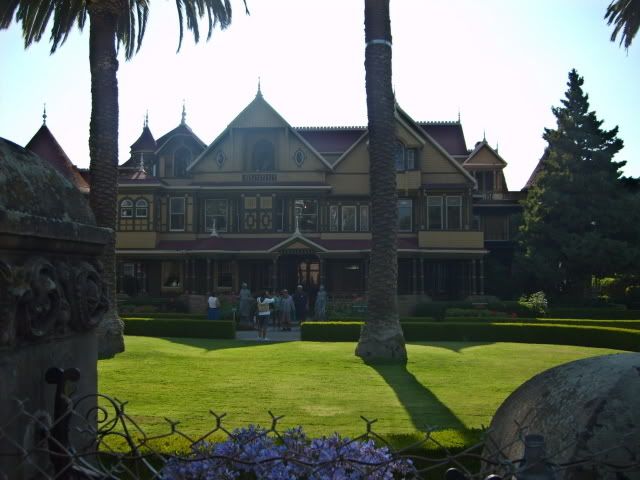 With a massive fortune at her disposal, Mrs. Winchester started building and never stopped until the day of her death (supposedly she was to live forever if she kept building, but apparently that didn't work out!). Apart from its ridiculous origin, the house is fascinating. Stairways to nowhere, 1/2" cabinets, windows in the floor -- "Bizarre" doesn't even begin to cover it!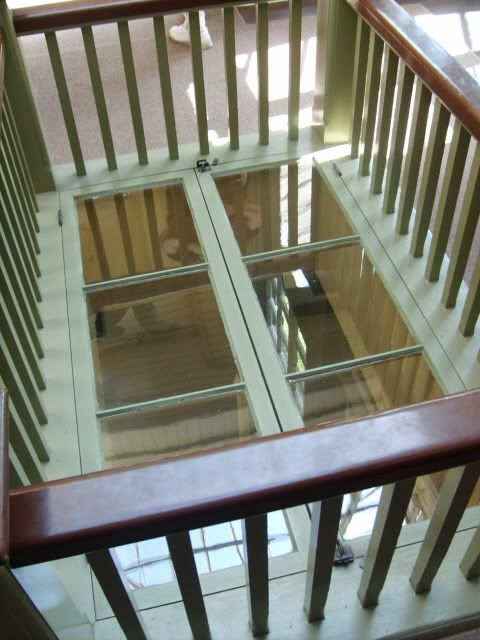 I loved the sewing room!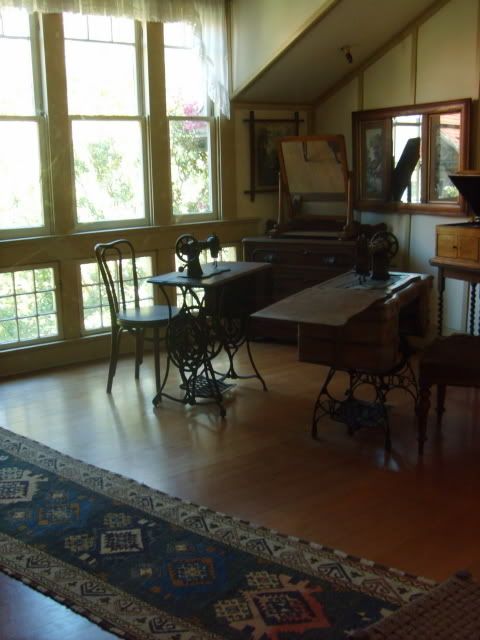 Here's a view of the rather convoluted layout of the house: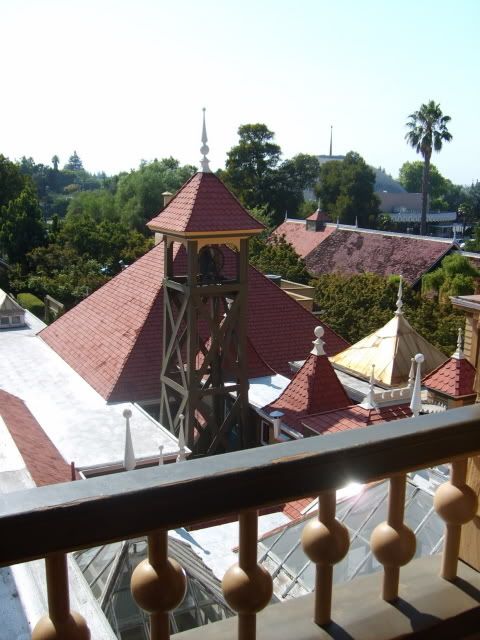 This door, located on the 3rd story, opens into nowhwere! And wait! Is that a ghostly figure standing in front of it?
Oops! It's just the photographer *wink*
Mrs. Winchester wasn't completely insane, though. There are many clever innovations in the house, including a stair system called "easy risers." As she grew older, it became difficult for her to climb stairs. She developed a staircase with 2" risers. One staircase we climbed made seven complete turns before reaching the top! It's more like a ramp than a staircase.
After the Winchester Mystery house, we continued our trek north to San Francisco. Oh, how we walked! I'd be afraid to know how many miles we covered in that one day. But the weather could not have been more beautiful, and we had a delightful time.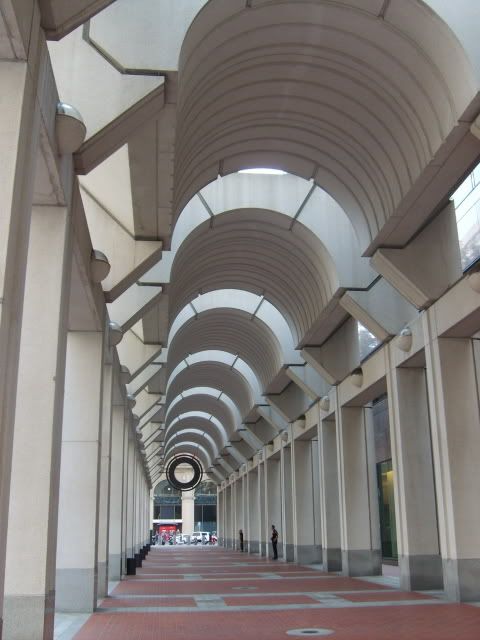 Our first destination was Fisherman's Wharf. Let's just say the walk from Pier 1 to Pier 33 is...long. But along the way we caught sight of the infamous island of Alcatraz, as well as numerous wharfs and ships of all kinds.
"The Rock"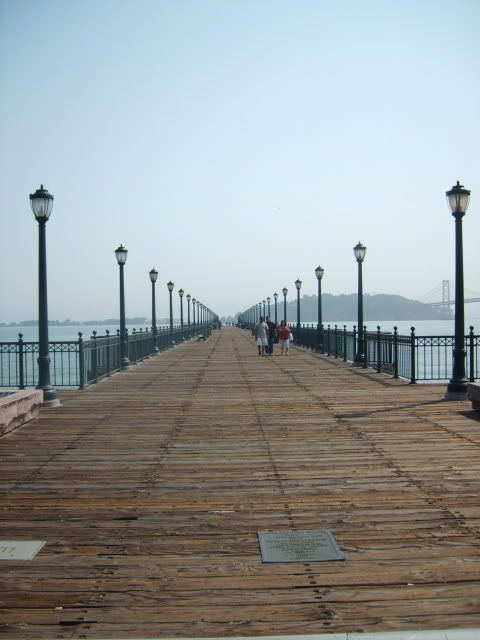 I just love this little guy!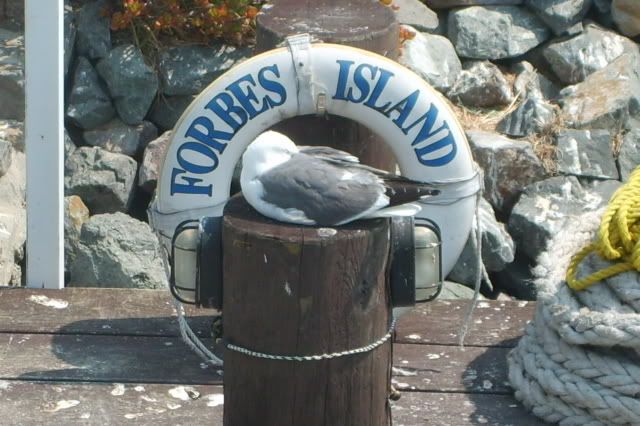 A short distance from Fisherman's Wharf is the mouth-watering locale known as Ghirardelli Square:
Oh, the hot fudge!
This was so delicious that we *ahem*... came back later! But we shared both times, so it's not
quite
as bad as it sounds! Our unanimous opinion skyrocketed the Ghirardelli sundaes to the top of our "Best Ice Cream Ever" list.
But we were soon to walk off those calories with a visit to the Exploratoreum, housed in the Palace of Fine Arts. We passed a military installment on our way, and I couldn't resist the opportunity of testing my college weight training "skills" on a convenient bar: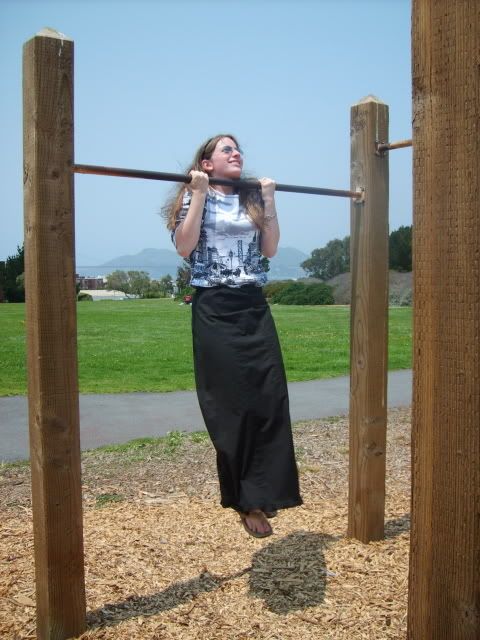 I can still hold it for 15 seconds! And no, my chin isn't actually resting on the bar; it's just
really
close.
Erected in 1915 for the Panama Pacific Exposition, the Palace of Fine Arts was not intended to last. As a result it has undergone extensive renovation over the years. Once again, scaffolding was embracing the Rotunda. We never have trouble finding our destinations -- we just look for scaffolding! Even in England it seemed that wherever we went there was scaffolding. Here's a picture of part of the colonnade. This was the loveliest spot in San Francisco.
Behind the Palace of Fine Arts is the Exploratoreum, a two-story ultimate hands-on science museum. It's "kid friendly," but our entire family thoroughly enjoyed the experience!
Polarized ice crystals: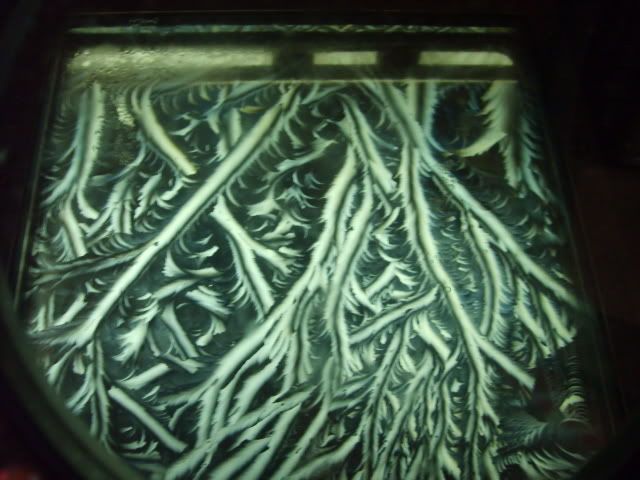 This was the entrance to the mind exhibit -- testing the power of mental associations. I have to admit, even though I knew the toilet was brand new, using it as a water fountain was unnerving!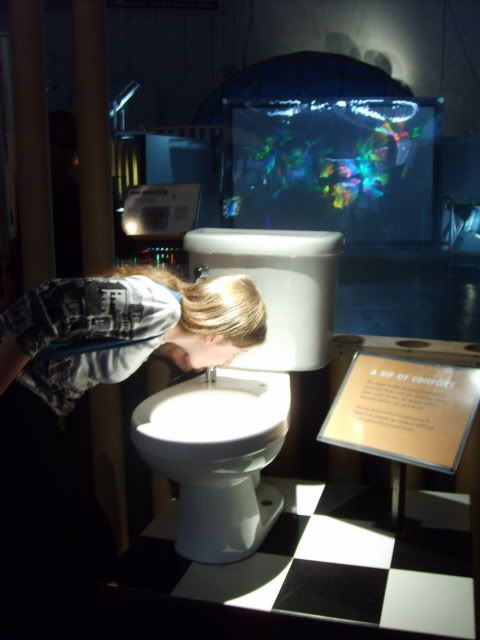 After several hours in the Exploratoreum, we stopped back at Ghirardelli Square before heading back. A historic neighborhood lay in our path, so we stopped to satisfy my architectural cravings.
The Haas-Lilienthal House: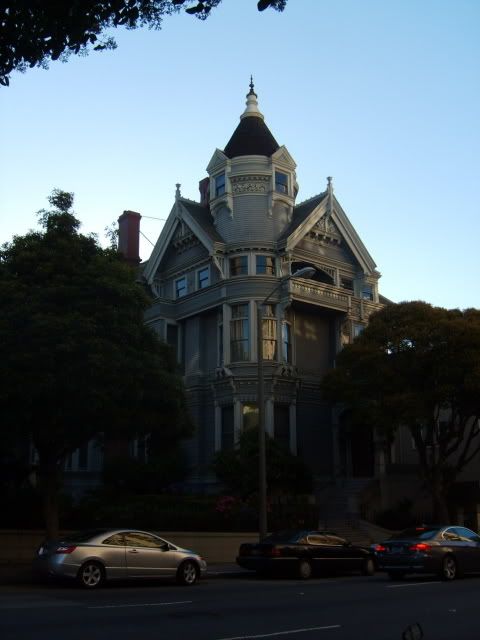 We found a beautiful public rose garden tucked away on a side street: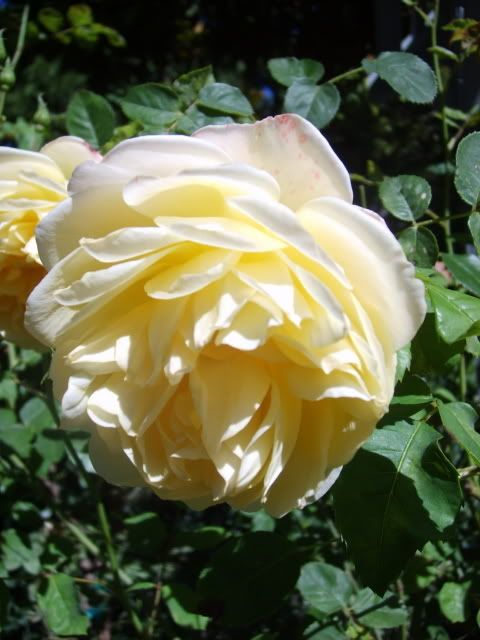 Sir Arthur Conan Doyle stayed in this lovely house: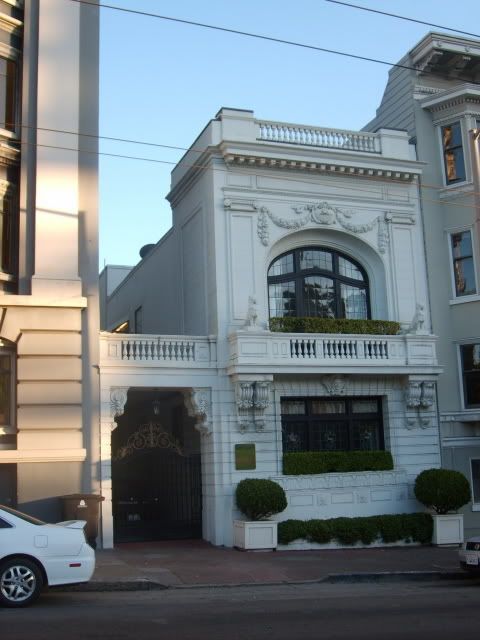 But no visit to San Francisco would be complete without a drive (or walk!) down Lombard Street. The hill has a natural 27% grade, far too steep for vehicles! Instead, it has eight hairpin turns. Here's the view from the top: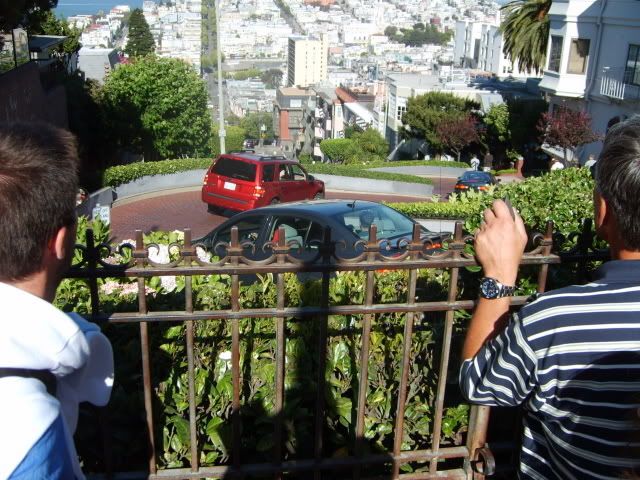 And one from the side: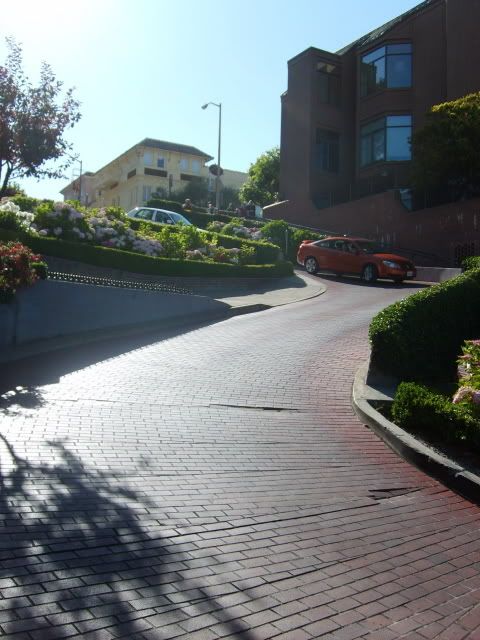 There's a superb aerial shot of Lombard Street
HERE
. What got us laughing was that there are driveways on this section of Lombard Street! Can you imagine trying to get in? Or out, for that matter!
We didn't ride a cable car ($5 per person seemed a bit steep!), but we did get to see several. Besides, they were so crowded that I don't think the ride would have been all that enjoyable!
The next morning we left San Francisco via the Golden Gate Bridge -- if you drive north on the bridge, there's no toll!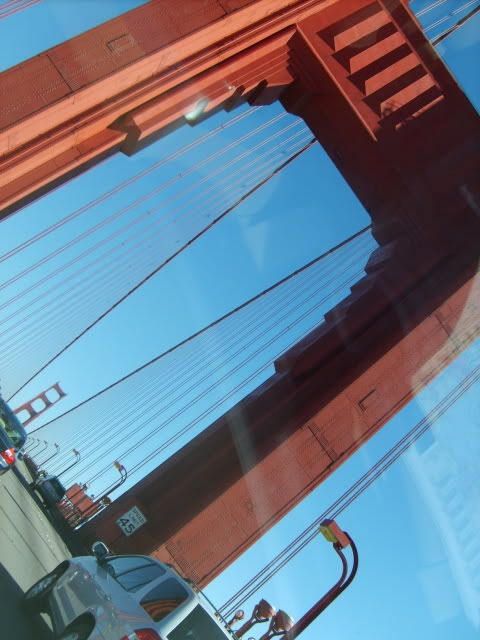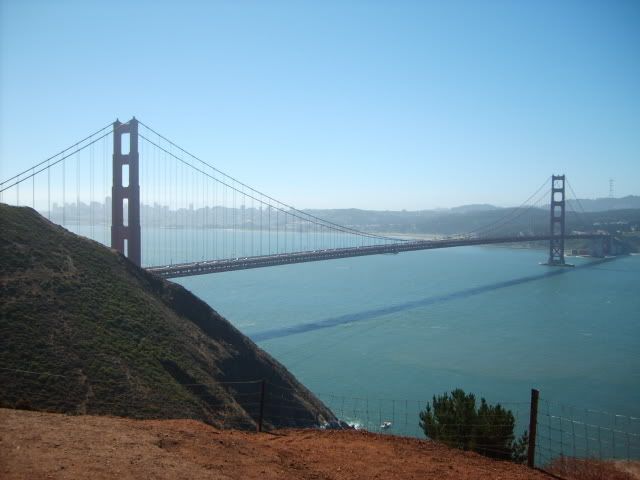 Next stop, Redwood National Forest!