I think I can safely call the booksale a smashing success! The final count is 53 books, 15 CDs, 3 videos, 12 pieces of music, and 1 very decrepit photo album with over forty antique photographs!
Tiffany and I have been repeating this photograph for several booksales now, and it has become a tradition: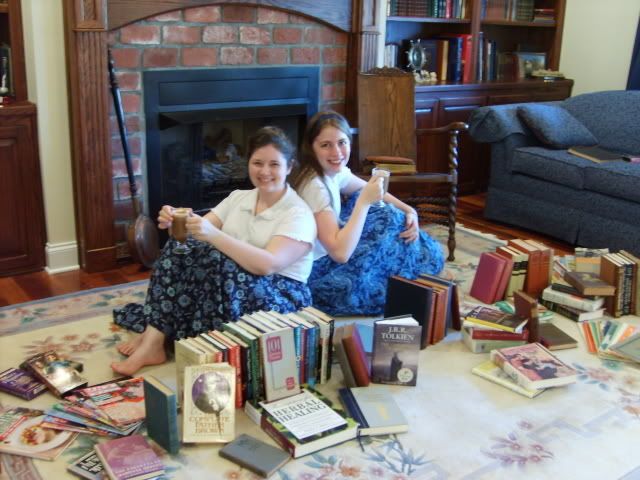 The preview sale was enjoyable -- but we found out that the prices are higher than they are on Saturday! So we put back some books, hoping that they would be there the next day (which they were!).
The photo album was quite a find for me -- I passed one up several years ago, and have never forgiven myself. Although the album was no good, it had some wonderful pictures inside:
I did manage to find some antique books, which is always a delight! This copy of
Ivanhoe
was only $1, even though it was in the "rare book corral:"
And who can resist leather spines? Or Dickens?
One treasure was a 1930's book on high school dress for girls -- complete with illustrations and projects! I can't wait to dig deeper into that.
I try to go easy on the sheet music, but the covers get me every time:
Fortunately, it's also a classic exercise book for the violin!
With all my books added to my inventory (current count is 594) and put away, I feel ready for another book sale! I suppose it's a good thing that they won't hold another until Spring...