My sister, Tiffany, and I decided to make a "fancy" dinner tonight, inspired by the butternut squash sitting on our counter at home and the reduced sourdough loaves we found at the grocery store -- the perfect size to use as bread bowls.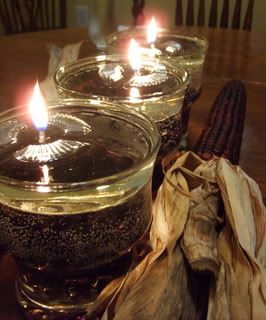 Butternut Squash and Carrot Soup
~ 3 c. peeled, diced butternut squash (about 1 small squash)
~ 2 c. thinly sliced carrot (4 medium)
~ 3/4 c. thinly sliced leek or chopped onion
~ 1 T. butter or margarine
~ 28 oz. chicken broth
~ 1/4 t. ground white pepper
~ 1/4 t. ground nutmeg
~ 1/4 c. light cream
Garnish options:
~ Dairy sour cream
~ Toasted pumpkin seeds
~ Fresh tarragon sprigs
Instructions:
1. In a large covered saucepan cook squash, carrot, and leek in hot butter over medium heat about 8 minutes, stirring occasionally. Add broth. Bring to a boil; reduce heat. Simmer covered for 25 to 35 minutes, or until vegetables are very tender. Cool slightly.
2. Place one-third of the squash mixture in a food processor or blender. Cover and blend until almost smooth. Repeat with remaining squash mixture. Return all of mxiture to saucepan. Add white pepper and nutmeg; bring just to boiling. Add light cream; heat through. If desired, garnish each serving with sour cream, pumpking seeds, and/or fresh tarragon.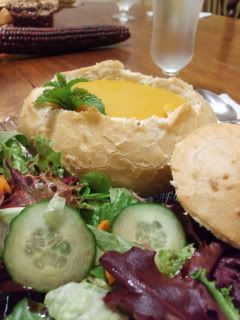 This creamy orange soup is absolutely delicious, and a perfect Autumn dish. Just the thing to take the edge off these crisp Autumn days!