I can't bear the idea of letting my book collection go unprotected! So I have left it to the care of four stalwart maidens -- who better to guard a bookshelf than some of literature's dearest sisters: Meg, Jo, Beth, and Amy?
I am not much of a "figurine" person, but when I saw these delightful Tasha Tudor renditions of the March sisters at a local consignment shop, I thought them delightful! My dear mother and sister gave them to me as a Christmas present several years ago, and they have guarded my bookshelf ever since.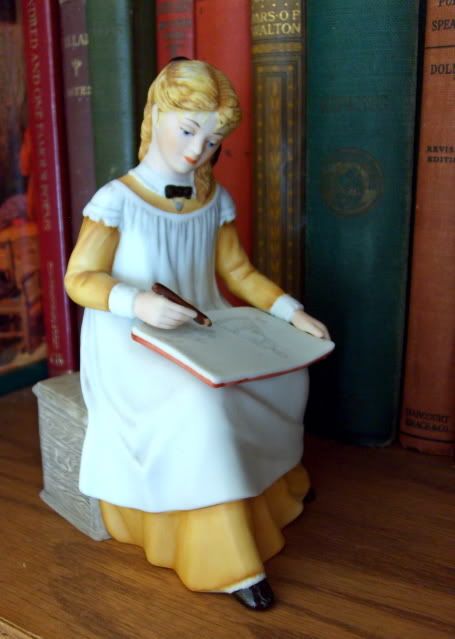 My sister presented me with Meg and Jo -- the two of us have always found ourselves sympathetic to those characters (although I long ago outgrew my tom-boyish tendencies -- though I still share Jo's love of books and writing).
As I putter about the sewing room I am listening to "Little Women" on tape, on loan from the library. It has been quite a long time since I last read it, and I always forget between readings how refreshingly wholesome it is. Just like a breath of the crisp, cool air that is my delight during these glorious Autumn days.