My sister
blogged recently
about a new arrival in our family -- a not-quite-seven-ounce bundle of prickles that she has donned "Mrs. Tiggy Winkle." Of course. Really, what else could any self-respecting Beatrix Potter fan name her pet hedgehog? Since Miss Tiggy Winkle has always been my favorite Potter character, I highly approve of Tiffany's choice!
Tiffany's had her for almost a week now, and she's already endeared herself to us. She's just now warming up to the family, but fortunately she was already quite social when Tiffany purchased her. Tonight she spent the evening crawling all over us, the sofa, and anything else we let her get into. Who knew that hedgehogs could climb so quickly up nearly vertical surfaces? I certainly didn't!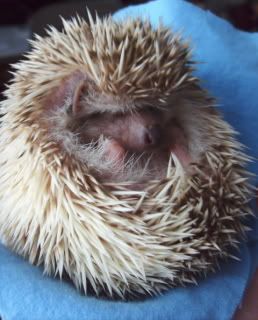 Over the past few days, we've been coming up with pet names for her -- my new one today was "Miss Grumpy Pins," since she is decidedly unfriendly when roused during the day (hedgehogs are nocturnal). She curls herself up into a tight ball of prickles and gets huffy by shivering and sniffing ominously.
Speaking of sniffing, she's got the cutest little nose imaginable. It's going almost all the time, and it's the first thing you see when she decides to retract her prickly armor. That and four little pink feet. Adorable! I think I'm in love...