After a long stint stuffed away into the sewing room closet, my linen princess-seamed blouse finally reached completion! I had gotten so frustrated with it that I had put it out of sight (though not always out of mind...). Imagine my chagrin when I found that the only real adjustment that I had to make was to remove the ties I had placed in the front bodice seams. Voila!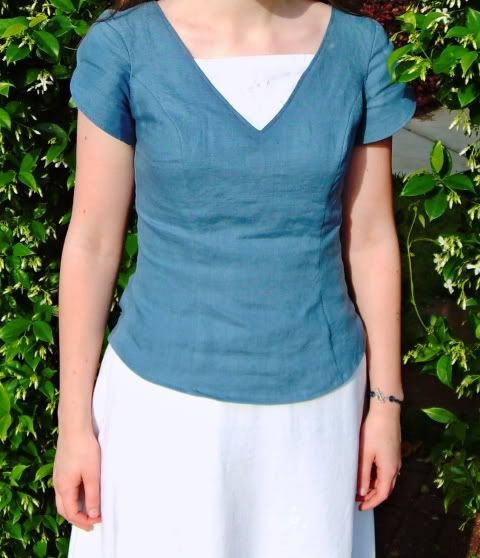 The fabric I used was a lovely Wedgwood linen (okay, it's more like slate than Wedgwood, but "Wedgwood" sounds so much nicer!) that I rescued from an outdated thrifted dress. Linen is so beautiful, but I do find it a bit difficult to work with -- somehow I always end up with lots of ease.
I used the bodice of
McCall's 3571
as my base, although my blouse hardly resembles the pattern -- no "V" in the back, longer all the way 'round, side zipper instead of buttons. The biggest change I made was to add "petal" sleeves, I look I love but had never tried before.
I decided I wanted a V-neck, so a thrifted curtain sample (honestly, what makes Wal-Mart think to donate their old curtain samples?) served as an almost-free embroidered inset.
I do love projects that turn out just right without any fuss, but I think I have a special place in my heart for all of my rescued "disaster" projects.